This Incredible Hulk cake certainly isn't the first Hulk cake I've seen in my travels through the infotubes.  It's just the first that I've wanted to profile here on GWS.
Once you've seen five or six cake topper "Hulks" resembling little mongoloid zombies with Gumby-arms, you start to appreciate a proper confectionery tribute to the Gamma-irradiated beast when it comes along.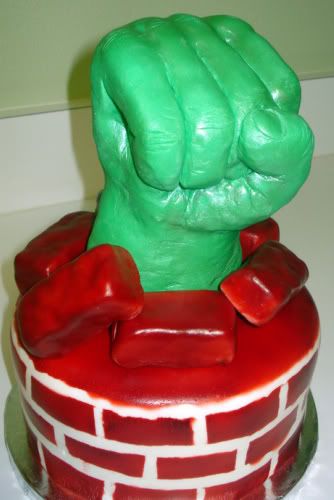 Megan Faulkner Brown of the recently-opened Sweet Tooth Fairy bakery in Provo, Utah built frosting, fondant, and Rice Krispy treats around a chocolate cake with cream cheese frosting filling:
My husband's really good friend has a son who was celebrating a birthday a few months ago. Apparently, this little 3 year old boy is obsessed with the Hulk. My husband's friend gave me full artistic liberty and this is what we came up with. He LOVED the cake and still talks to his mom and dad about it.
Yeah, I guess "artistic license" is how Hulk ended up tasting like cream cheese, eh?  Not the flavor I would have chosen for the Mean Green Machine, but hey… art is subjective, right?  And I don't argue with smash-tacular cakework.  So I'll shut up now.
Thanks to Megan the Mighty.  Check out more of her many baked goodnesses on her Flickr photostream.
Enjoy this post? Subscribe to Great White Snark by – or by RSS.