Anyone who's followed my robustly-photo-logged comic convention coverage knows that I don't have the attention span or the desire to figure out the differences between the various Japanese animes.  When I see a themed cosplayer, I call it "Naruto" and move on with my life.
Hell, I don't even know if "animes" is a word.  And just look at me caring.  Yep.  Totally care.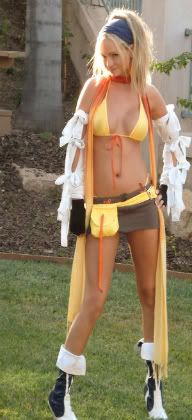 So, no surprise when I ran into Mindy in (what I now know was) a Rikku costume at Comic-Con last year: I said, "What are you supposed to be?"
"Don't you know? Final Fantasy!" she said. And then stomped off in a huff.  About which I blogged and called her "this broad."
You know… the usual.  Making hands and shaking babies wherever I go.
Well, let this be a lesson to you: insult scantily-clad babes at Comic-Con and ye shall receive bikini photos in your e-mail inbox.
Mindy recently pointed me to the full gallery of her Comic-Con photos on her MySpace page, and I'm starting to think those nutty Japanese are onto something with their obesssion with skinny, doe-eyed girls with big boobs in bikinis.
The outfit was fairly simple, i shopped on ebay for most of it. The hardest part was that scarf, me and my mom worked on how to make it with a few failed prototypes inbetween, she tried crochet but it was to stiff, etc. We ended ep getting a long, yellow scarf and delicately dyeing it orange then red, unfortunately some of the dye came off on my neck that weekend.
Mindy's next cosplay project will be "old school Star Trek." I can only assume it will look a lot like this. Let's hope.
Enjoy this post? Subscribe to Great White Snark by – or by RSS.