The underlying theme of costumes at this year's WonderCon 2009 seemed to be, "In spite of the recession, cosplay geeks are still eating well."  You'll see what I mean.
Also, in spite of the protests of my heart, mind, soul, and remaining kidney, I couldn't entirely avoid taking a couple of pictures of anime cosplayers.  Of course, I don't know why I bothered.  It's all Naruto to me.

Looking good. The Baroness knows that tight, black spandex is never the wrong answer.  (Except when it is.  Which is usually at a comic book convention.)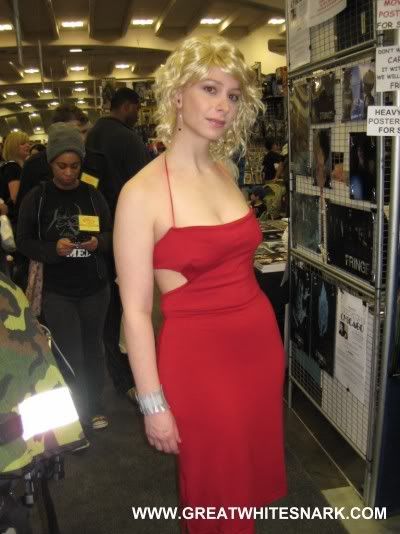 Battlestar Galactica's "Number Six," the married years.  Still a looker, but "svelteness" is the first thing to go, you know?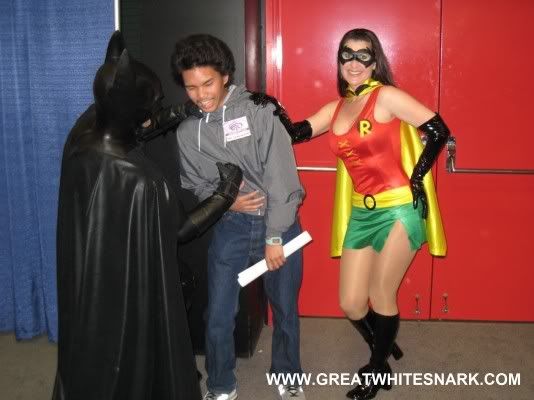 This Robin costume says "stripper" to me.  But so does any flash of cleavage I see on any given day, so I might be biased.  And sexist.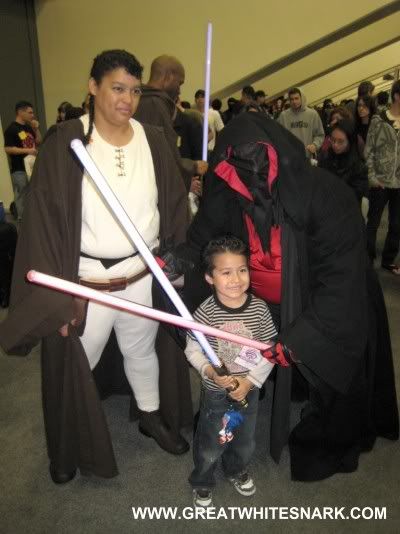 Two dark Jedis, posing with their early-afternoon snack.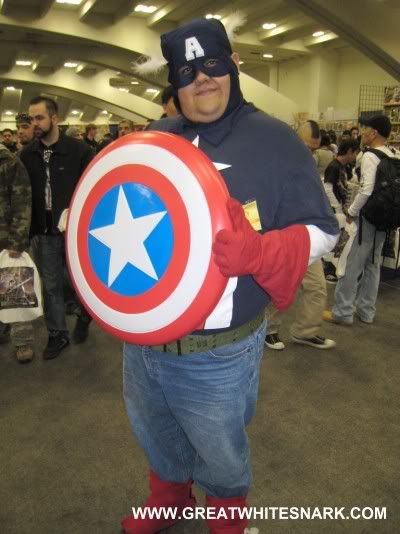 What If: The Blob became Captain America?  (I know, fat jokes are lazy and petty. Please judge me.)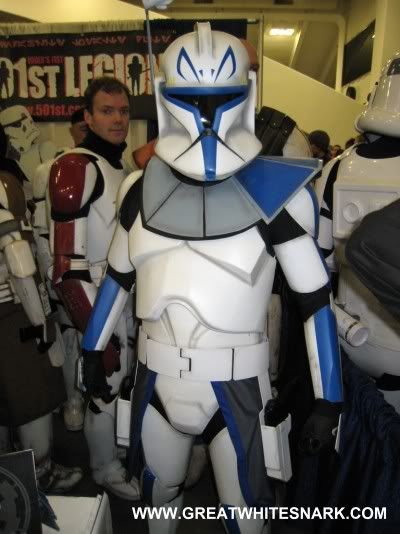 Captain Rex.  Not funny.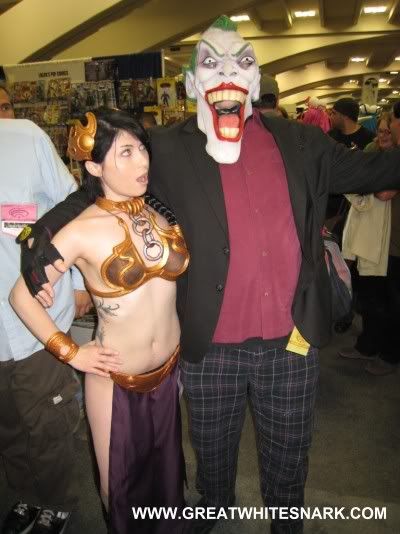 Slave Leia and Portly Joker in the moment just after they've learned that they're actually brother and sister.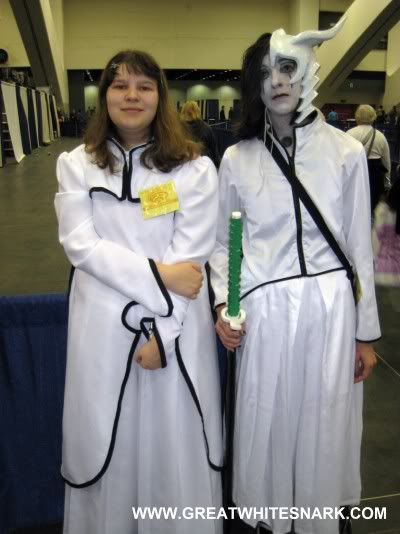 Naruto.  Naruto Naruto Naruto.  Or something.

A Cobra Trooper and Cobra Commander, sporting complementary black outfits and inviting a gay joke that I'm going to completely avoid.

Count Dooku and his ladyfriend from the 501st were bouncers for Carrie Fisher's booth.  I'm sure that what they lacked in upper body strength they made up for with earnestness and leather accessories.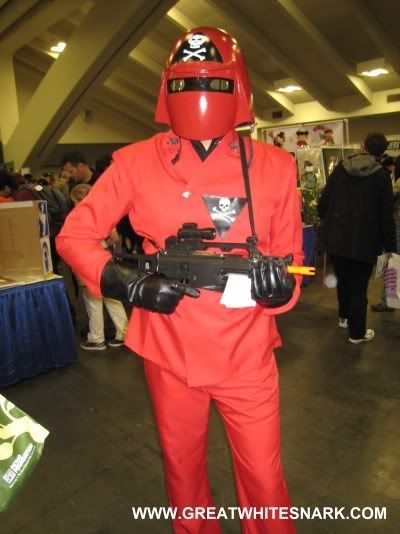 Pew pew! Hey, look at me!  I'm a Cobra Laser Trooper!  This costume design is straight out of the cartoon playing over and over in my head! Pew pew!

Sure, he looks like Batman, but the Batman I know doesn't pack any fuzzy accessories. Fail.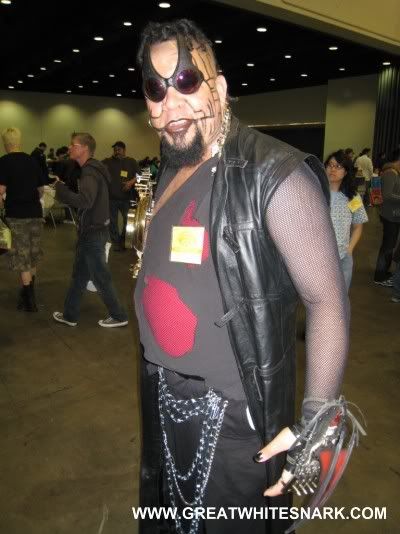 Me: "What inspired your costume?" Him: [blank stare]  Me: "You just kind of made this up?" Him: "Yeah."

Teenage Mutant Ninja Mystique?

Imperial Officer and an inappropriately cheerful bounty hunter.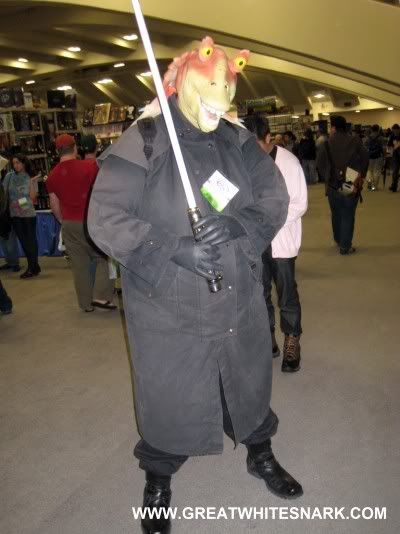 Screw you, guy.  Screw. You.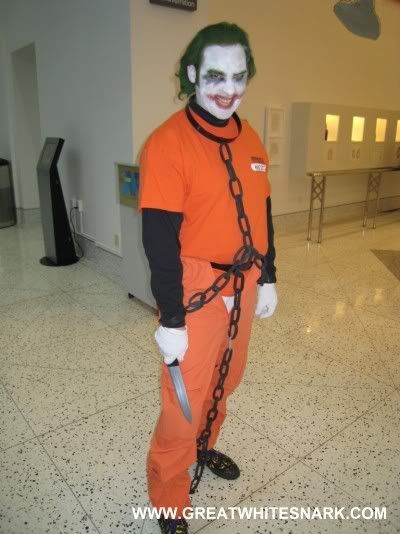 Hey, what do you know, a Joker costume! And me without the joke-telling stamina to avoid outright sarcasm!

"Kabuki warrior."  Sounds like some Naruto bullshit to me.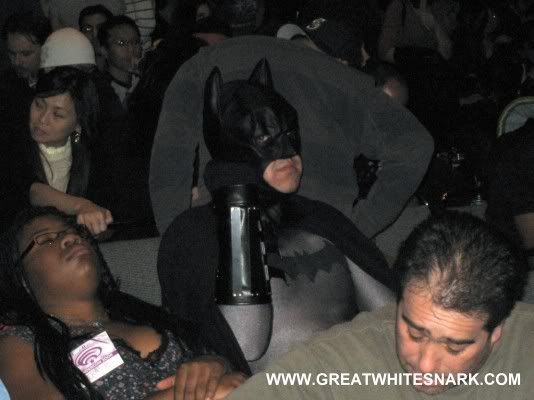 Lazy Batman.

…but not as lazy as this Jedi. I mean, dude… even his lightsaber is limp.

Oh, Marvel Girl.  Why couldn't you be morbidly obese, so I could find something entertainingly-disparaging to say?

This reeks of Naruto.  Are there pumpkin-headed characters in Naruto? God, I hate anime.
Enjoy this post? Subscribe to Great White Snark by – or by RSS.