First, let's get something straight.  There isn't a 14-year-old alive who has been on the Earth long enough to have accomplished the good deeds necessary to deserve a stellar Serenity cake like this one.
(Unless there's some 9th-grader I don't know about whose elixir-like blood can cure a bad case of George Lucas.  Which there isn't.)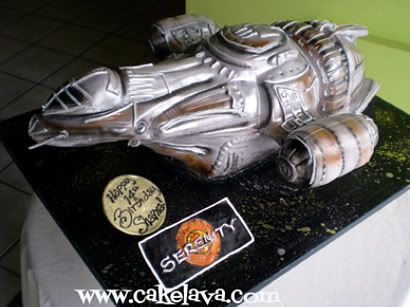 Yet my friends Sasha and Rick Reichart of cakelava bakery refuse to discontinue their ongoing campaign to over-reward children who haven't even tried for the Pulitzer prize, let alone won it.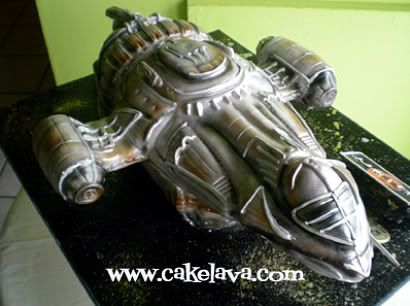 Rick sculpted this Chocolate-Dream-flavored cake for the birthday of Shayna, a 14-year-old "absolutely obsessed" with Joss Whedon's Firefly.
In spite of Shayna's thus-far failure to destroy the gene that causes Furry cosplay or to prevent the atrocity of a Dragonball movie,  I credit her with excellent taste in television programming.  I… hope she enjoyed her cake.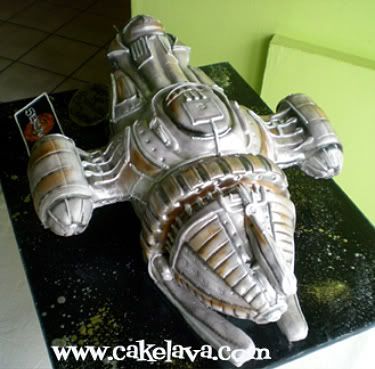 Don't forget Sasha and Rick's other confectionery masterpieces here on GWS: the Death Star cake, R2-D2 cake, and Millennium Falcon cake.
Find Captain Mal Reynolds action figures on Ebay
Enjoy this post? Subscribe to Great White Snark by – or by RSS.