Just look at it.  It's wearing an ascot.  Or a scarf. Whatever.
Either way, I haven't seen "dandy" hit the DC Universe like this since Rainbow Raider joined The Flash's Rogues' Gallery.*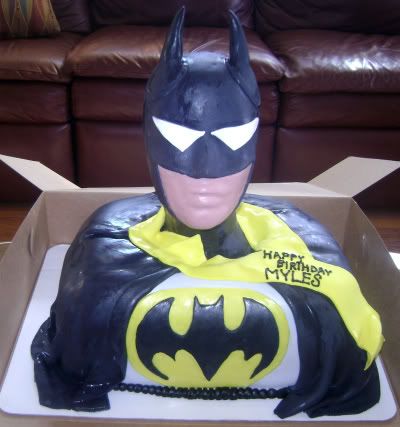 Kimberly of Ohh That's Cute Cakes delivered unto my 'lectric mailbox this foppish amalgam of a modern-day superhero and an 19th-century Parisian man-about-town:
I made this batman cake for a friends birthday party this weekend. The cake is white with buttercreme frosting. Lots of hard work but it came out nice!
Beware of Kimberly's Web site, unless you enjoy completely-arbitrary animated butterfly GIFs with your Web-browsing experience.  But, hey, if you're into that sort of thing, you and 1997 go knock yourselves out.
* Thanks to Paul of The Robot's Pajamas for plucking the Rainbow Raider from obscurity to put him in this punchline, where he so clearly belongs.
Enjoy this post? Subscribe to Great White Snark by – or by RSS.