UPDATE: Wow, what an absolute onslaught of great ideas. Melissa, Jen, and I put serious time and consideration into selecting a winner.  Seriously.  There were spreadsheets.
Anyway, as the Highlander says: There can be only one.  And that's Kari (#30), with her tiered wedding cake of various geek themes, topped by Princess Leia and a resourceful Captain Kirk.  Congratulations, Kari, and thanks to everyone for your awesome suggestions!
Melissa has already started designing the cake… we'll let you know when there's, you know… more to know! (END UPDATE)
Professional cake artisan Melissa Capyk of Wild Cakes, Jen of the illustrious Cake Wrecks blog, and I are running a contest for you geeky ninjas of creativity who think you can design the ultimate geeky cake.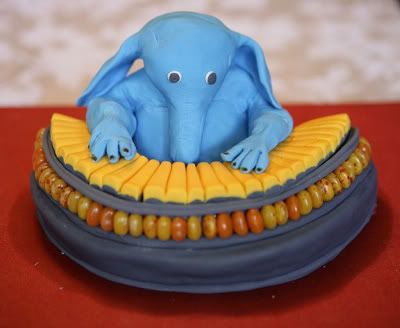 The original awesome Star Wars cake featured here on GWS

Through April 30, leave a comment on this post suggesting a subject for a kick-ass geeky cake. Melissa, Jen, and I–as the democratically self-selected experts in this realm–will select a winner based on the awesomeness, geekiness, and feasibility of the idea.
Melissa of Wild Cakes will create an actual cake based on the winning idea.  The cake will be featured* on both Great White Snark (in a "Geeky Cake of the Week" post, of course) and on the mega-popular Cake Wrecks blog.
How's that for bragging rights?  Your name (and geeky cake idea come-to-life!) in lights. Or… in brightly-lit pixels. Whatever.  But I know you're not in it for the glory.  It's all about bestowing an amazing, confectionery geek tribute upon the world, right? Right?
The winner shall also receive a custom t-shirt based on their cake design, a copy of Melissa's design sketch, and a signed copy of a photo of the finished cake.  Because we're all interested in supplementing your steadily-growing collection of cake t-shirts and photos.
And if you live in Ontario, Canada, I bet Melissa might even be open to giving you the cake.  (Unfortunately, UPS has yet to design a box and shipping method that caters to the successful long-distance delivery of custom cakes.)
You can submit as many ideas as you like, but that won't increase your odds of winning unless all of your ideas collectively stockpile more geeky goodness than one-hundred quips from Captain Tightpants on a good hair day.
Be as general or as specific as you'd like.  If you need more than a couple of paragraphs to describe your idea or are actually moved to sketch up a diagram, you can send supplementary details to Melissa at contest_@_wildcakes.ca via emailing machine.  Just make sure you leave a comment on this post and reference your comment username in the email.
Full rules available on Melissa's cake blog.  You have until April 30… have at it!
* You know… assuming Melissa doesn't let us down with the final product. Which she won't.
Enjoy this post? Subscribe to Great White Snark by – or by RSS.