I'm phoning this one in, people.  Jokes at a bare minimum.  Because (1) this Jabba the Hutt cake from completely-non-professional cake-maker Marty speaks for itself. It is green, slimy, and stupendous.
And (2), Marty sent me perhaps the best description of a cake I've ever received, and its hilarity stands quite nicely on its own.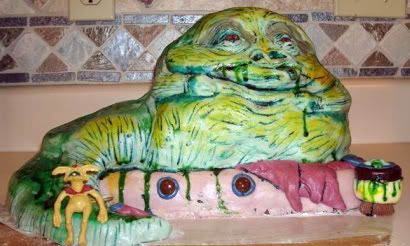 I'll let Marty take it from here. (Except where I can't help myself.)
I have two boys (8 & 4) that have only a week in between their birthdays. As any self respecting parent would, I cheat them out of any sense of individuality and combine their parties to save a buck.
Finally. A parent who doesn't think that Junior deserves a $400(?) custom-made birthday cake that he'll forget as soon as he starts unwrapping his overly-extravagant presents.
You'll take whatever your loving parents give you, and you'll damn well like it, kid.
Ok, I'm done. I think.  Anyway, please continue, Marty.
My four year old is reallly into Star Wars now and Jabba is his favorite character (which is a bit weird to me). After I promised him a "Jabba cake" (with no real plan on how to get one) I turned to every geek's best friend, the Internet. I found a fairly simple recipe for fondant and my wife made it. I mixed in food coloring to make the various pieces.

I laid out the bottom [chocolate] cake flat to create Jabba's bed (that was a bed right?) then covered it with a slab of fondant. I then kind of just stacked and cut the other chocolate cakes to make what vaguely resembled a giant chocolate turd. My wife then helped me hold the green fondant over the cake and lower it down, molding around the cake.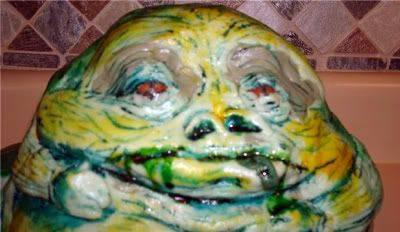 I used green and yellow food coloring on a paper towel and blotted it on… I actually think that turned out better than I imagined.

My favorite part was Jabba's slime. I used green food coloring mixed in Karo syrup, then applied it generously. For the eyes I took two Whoppers candies, applied them in the hallowed out sockets then applied fondant eyelids to make the eyes more squinty (at one point it looked like Jabba had a thyroid disorder).
Mark your calendars.  First use of a thyroid joke on this blog. And a well-executed one, at that.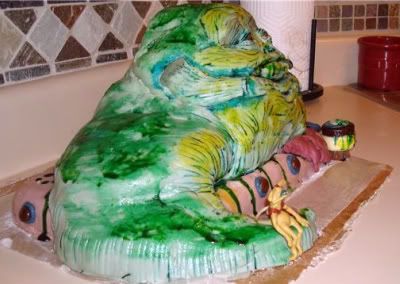 To add finishing touches I added M&M's on the bed, and made Jabba's bong (for lack of a better word) out of fondant, a mini York peppermint patty and an upside down mini peanut butter cup. I used a Kabob skewer with a bit of dark green food coloring on thew tip to make Jabbas's wrinkles, folds and details. A couple of fondant pillow and throw towels and he was done.

At the party my youngest wouldn't let anyone eat him though… he then proceeded to pull Jabba's eyes out his sockets and eat them. Like I said, weird kid.
Anyone who can work turd, bong, and thyroid disease references into a cake description and can affectionately call his kid "weird" (I mean, that was affectionate, right, Marty?) is aces in my book.  Cheers, Marty.
Thanks to Mike at TheForce.net for putting Marty and me in touch.
Enjoy this post? Subscribe to Great White Snark by – or by RSS.