Ever wonder what Batman would look if someone hit him with an emo stick?  Well, the particularly-inquisitive three of you who answered in the affirmative are in luck.  J.J. sent me an awesome photo and description of her Batman tattoo that are worth one-thousand words.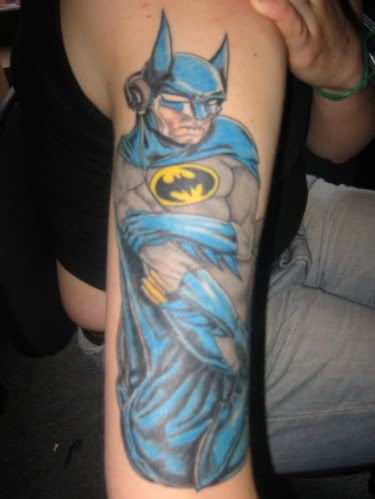 Actually, the description has about seventy words, so that means the photo's worth nine-hundred-thirty.  Which is still pretty good.
My Bat is classic Jim Lee-era comic style, blue and grey, long pointy ears. He's clutching his cape like a security blanket, biting his lip whilst crying, and listening to his iPod on very large audiophile headphones. He is overwhelmingly sad. His parents are gone, and he only has the gadgets (and Alfred) to keep him warm. Sometimes he listens to Dashboard Confessional, and the sobbing just won't end.
Totally. Batman created a Genius playlist in iTunes based on The Cure's "Pictures of You."
Find Batman comics by Jim Lee on Ebay
Enjoy this post? Subscribe to Great White Snark by – or by RSS.