The early reviews for X-Men Origins: Wolverine are in, and all signs point to "ragingly mediocre."  But what did you expect from a movie that makes Deadpool–arguably the most insidiously-hilarious character in the Marvel Universe–a mute?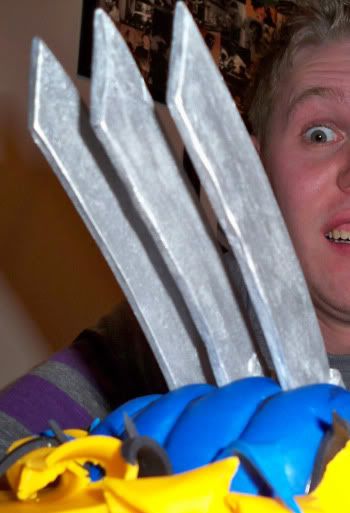 What a waste of Ryan Reynolds' wit and comedic timing. Why undermine an actor's best assets like that?  It'd be like using CGI effects to remove Salma Hayek's boobs. There's only so much I'm willing to pay to hear her cute little accent, you know?
Anyway.  Leprous movie or no, I suspect Wolverine will continue to be one of Marvel's most popular characters… in no small part thanks to his shiny metal claws that go "snkt!"
So, well played, Joy, who arranged for ShireBound Cake Company in Birmingham, Alabama to make this X-Men Wolverine cake for Matt's 25th birthday.
Enjoy this post? Subscribe to Great White Snark by – or by RSS.