Last summer, Jennifer Luxmore of Sin Desserts in Providence, RI, shared with me a fantastic Star Wars Millennium Falcon cake which subsequently went on to internets-fame.  Since then, Jennifer has been promising me an exclusive on a spectacular follow-up, and damn if she didn't deliver with this Star Wars AT-AT cake.
My friend, Jason got married this past weekend and our friends wanted to do an awesome groom's cake for him since he had helped do a Millenium Falcon for another friend of his. So the bakery did the cake part and we called in Jason's friends (all RISD alumni) to do the rest of it.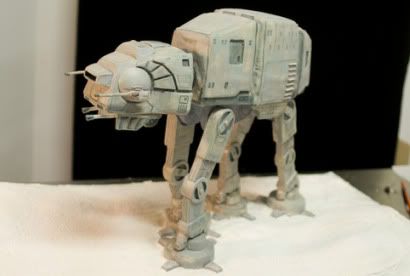 So this is what happens when a bunch of friends from the Rhode Island School of Design get together and make a cake in their spare time.  Art school must be cool.
Yeah, you know what my friends from business school could produce if they got together to make me a gift?  Either a beer bomb or a really fancy spreadsheet.  What we lack in creativity we make up for with drunkenness and marketable finance skills. Meh.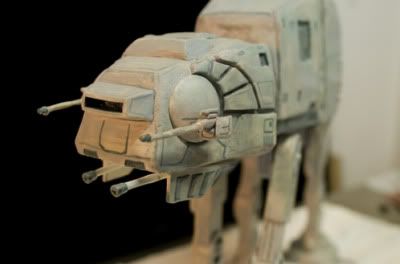 The legs and base [of the Star Wars AT-AT cake] are wood, covered in gum paste and the cake is the head and body. I was in charge of baking, covering it in fondant and covering the legs with the gum paste. Phil was in charge of the design and base, Dave was in charge of color, Cutter was in charge of accessories (ie: guns), Coryndon was in charge of landscape and Joe was in charge of background. Then they all got together and painted on the details.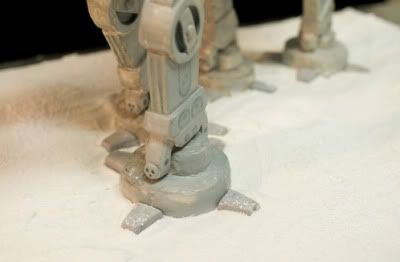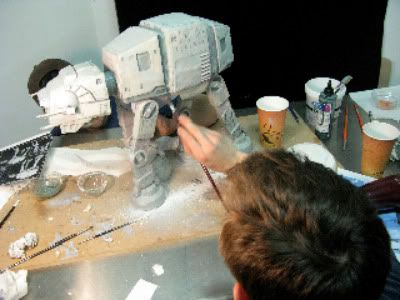 The cake was a new cake for us… the Guiness Cake. and the background was hand painted by Joe. All of the people involved in the cake are artists of some sort and it took (everyone combined) about 60 hours (background painting, leg and body cut outs, covering, cake/covering, assembly and painting) so we figured the cake to come in some where around $5,000 at the low end. I'm sure the bakery could do it faster and cheaper if we ever got a second order for it, but it would still be a bit pricy and it wouldn't have a custom hand painted background!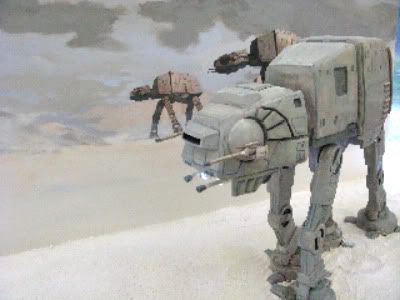 Sixty hours? $5,000? A hand-painted background?  Wow.  And my Mom was totally impressed when I gave her a Mother's Day card featuring a stick-figure self-portrait of me holding a magic wand.  What a dupe!
Thanks to Jennifer gracing these electronic pages with the photos and details.  Check out the Sin Desserts Web site and see more of the behind-the-scenes AT-AT cake-making process in this Flickr photo pool.