I receive the most delightful/unnerving/occasionally-sticky notices in incoming email receptacle. (Which is why I always have hand-sanitizer at the ready.)
Take this item from Lady Aslan*, a self-described writer "of Gothic poems and short magical stories," who sent me a picture of her anime-style Harry Potter tattoo, complete with clutched side-boob.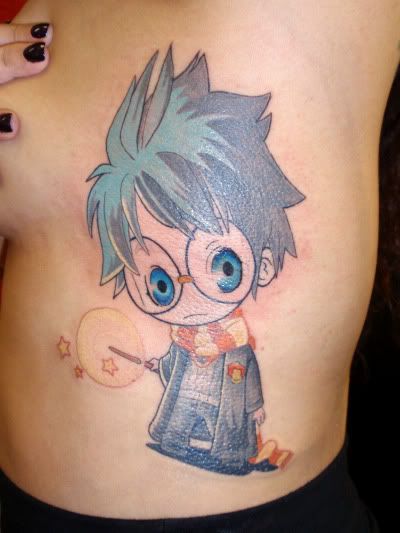 I got a Harry Potter caricature today on my rib cage ( can we say ouch ) at I Drive Tattoo in Orlando, my artist's name is Lance Norris….

anyway I got the tattoo mainly because I think Harry Potter is just KICK ASS and not since Tolkien and Lewis and let's not forget Carroll ( in my humble opinion ) have we had such an in-depth world created down to the little unique things like the characters, creatures, and objects…JK put a great deal of time into these epic novels and I just think its great that a woman wrote this and created a whole other world….being a writer myself, it gives me hope that maybe I can kick ass and take names in the future with my dark writes…besides we all need a little magic in our life~
I don't know if I'd put her on par with Tolkien, but J.K. Rowling has indeed created quite a compelling fantasy world with the Harry Potter books. Or so I've been led to understand by half-watching the first three films on cable.
But if you wanted a Harry Potter tattoo evocative of kick-assedness, why opt for a frowny-faced, anime-style caricature with big, doe-like eyes and a fluffy haircut tickling a crease of boob?  Not that it's not a well-executed tattoo.  But even 12-year-old, Hello Kitty-loving, Japanese schoolgirls would be reluctant to call it "kick ass."
I'm just sayin'.  Because I speak on behalf of 12-year-old Japanese schoolgirls everywhere.
* No, seriously. That's her name. Just check out the byline on her book, Victorian Days and Punk Rock Nights, on Amazon. She even goes by "Ladyaslan," but I don't support the misspelling of completely made-up names.

Enjoy this post? Subscribe to Great White Snark by – or by RSS.