From deviantART user TheZe of Atlanta, GA comes this costume of The Baroness, who's taking a break from her intelligence-gathering duties to add some Downy freshness to Cobra Commander's pajamas. (Which can easily be mistaken for his formal military garb. Don't be fooled.)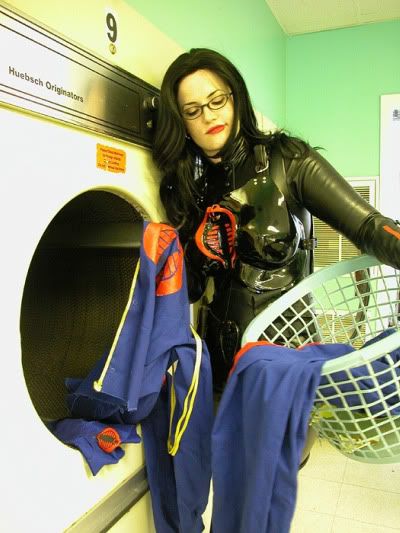 TheZe describes her work:
Costume of The Baroness from GI Joe made by me. The pattern and construction of the bodysuit was by me, made from pleather. the breastplate is fiberglass and was custom molded to me. Sculpt for casting was done by Chris Donio, Atlanta sculptor.
I like that the artist shares every 13-year-old boy's (and 32-year-old geek blogger's) vision of The Baroness: no matter the time of day, no matter how menial or mundane the task… she's wearing red lipstick and her signature black, form-fitting outfit.
Because as James Bond has taught us: (1) practicality can't get in the way of looking good when it comes to intelligence gathering, and (2) boobs are neat. Word.
Enjoy this post? Subscribe to Great White Snark by – or by RSS.