This charming little black number inspired by Darth Vader was created by custom costume- and corset-makers Evening Arwen.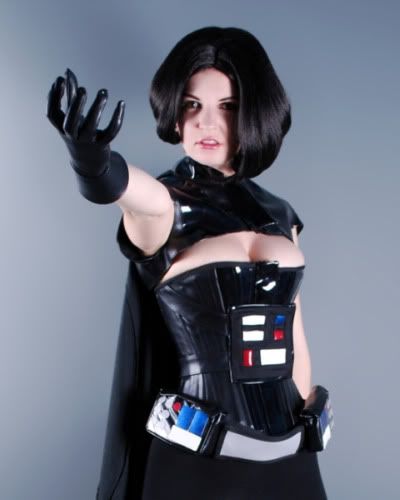 Yes, "Evening Arwen" sounds like a new age band of hippie night evles, but even hippies know better than to tempt the ire of the formidable LucasFilm licensing empire.  That's why they've dubbed this Darth Vader corset ensemble a "Galactic Lord Corset Costume." And have diligently avoided any mention of stars, wars, or Vaders.
Did I mention they're selling this, um… Blarth Nader corset costume for $600? Yeah, I'd want to stay under the LucasFilm radar, too, if it meant giving away 25% of $600, which roughly works out to… ummm, let's see. Carry the one. Flip the abacus, knock three times and… that's $150!
The costume includes a utility belt with a storage compartment ('cause carrying a purse around would pretty much ruin the leather-fetish-meets-cosplay-fetish, now wouldn't it?), a cape attached to the matching "shrug," and a pair of gauntlets.
Sensibly, they do not include the not-so-flattering wig shaped like Vader's helmet. Yikes.
Also from the item's description:
Please note, this corset is designed to take you in between 4 to 5 inches.
"Take you in between 4 to 5 inches"??? And people pay for that? Yeah, add "S&M fetish" to what I said earlier.