A birthday celebration and a rampaging lack of humility compelled Erin to craft this Teenage Mutant Ninja Turtles cake features Leonardo camped out with a beer:
For my younger brother's 21st (yes, 21st) birthday, I made him Leonardo sitting on a couch drinking a beer. I'm pretty much the best sister ever.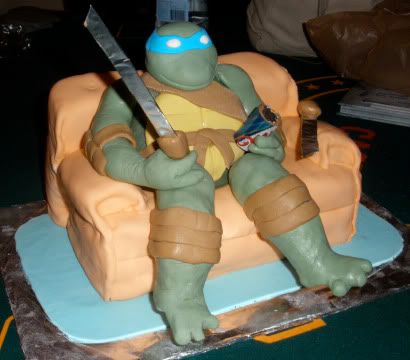 Yes. The best sister ever.
Now we know she's talented with confectionery goods, and her ego nearly rivals my own. Throw in some Slave Leia cosplay, and I'm about ready to name the next Future Ex-Mrs. G. W. Snark.
In the remainder of her email to me, Erin described the TMNT cake without another mention of her superlative qualities.
But the implication was clearly there.
Leonardo is made of Rice Krispies treats covered in fondant, and the couch is made of chocolate cake covered in chocolate frosting and fondant. The beer can was made from an actual beer can, and I learned that it is not easy to cut a beer can using dull scissors from the kitchen.
Ok, Erin, we get it! Your mastery of all things sisterly and frosting-covered is joined by formidable powers of deductive reasoning.
No need to beat us over the head with it. Geez.
But we can still talk about that Slave Leia cosplay, right?
Enjoy this post? Subscribe to Great White Snark by – or by RSS.