Just because you have the rights to a license… doesn't mean you should use it.
And the producers of the next, inevitable Punisher movie are welcome to that advice. But today, let's address Disney and its grotesque cross-licensed toy-producing efforts.
5. Mickey Mouse Tron Doll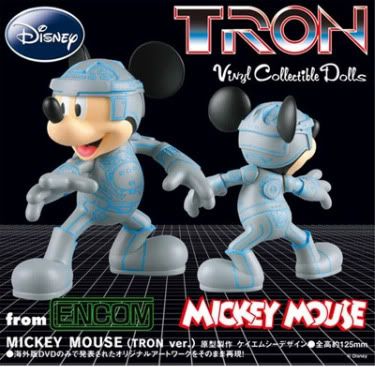 The fine toy-crafters behind the Mickey Mouse Tron "Doll" were originally going to call this item an "action figure," but then they realized that an action figure would have the good sense not to look so damn gleeful trapped inside a computer system with an angry Master Control Program and a woefully-undersized combat disc.
So they opted for "doll." Because "cartoonishly-emasculated Tron character of misguided gleefulness" wouldn't fit on the box.
4. All the Star Tours Toys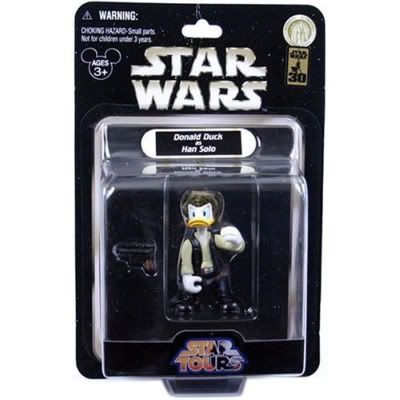 The minds behind the Star Tours line of action figures share Brett Ratner's rationale for creating "entertainment": Who cares if people with reasonable intelligence and an enthusiastic distaste for Larry the Cable Guy-style humor shun your product?  There's plenty of fools who are glad to part with their money for a lazy, cheap laugh. Hell, point at Florida on a map and you've found 18 milion consumers in your target demographic, right there.*
Which means, among Stitch as Emperor Palpatine, Minnie Mouse As Princess Leia, Donald Duck As Darth Maul
, and Mickey Mouse As Luke Skywalker… that would make Donald Duck As Han Solo the pompadour-haired Rush Hour 3 of the bunch. The most insulting money-grab of them all.  (Find the full line of Star Tours toys on Ebay. If you must.)
* Feel free to send me an angry email, Florida, once you figure out how to plug that darn typewriter into the internet.
3. Slave Leia Minnie Mouse Collectible Figure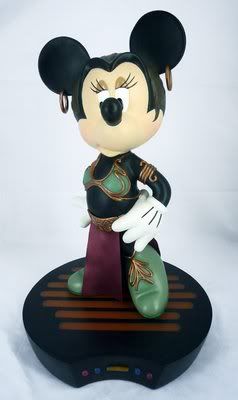 NOT SEXY.
Hey, you know how Carrie Fisher as Slave Leia has that innate ability to stir that certain, special something, deep within your loins?  Well, welcome to the loin-deadening, bizzaro version of that.
Someone please punch me in the place where my libido used to be.  I just want to know that I can feel something… anything… there, ever again.
2. The Mickey Mouse Transformer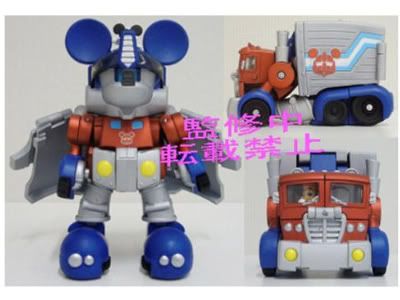 When I first discovered the Mickey Mouse Transformer, I called it "ill-conceived." I'd really like to upgrade that to: "Not even Michael Bay, on his worst making-a-giant-robot-pee-on-someone day, can drive this magnitude of insult into the core of the spirit of one of my generation's most cherished entertainment properties. My inner child has died and shriveled up into something resembling a half-eaten raisin."
But obviously I don't want to be melodramatic or anything. So, I'll leave it at "ill-conceived."
1. Goofy Jar Jar Binks Collectible Figure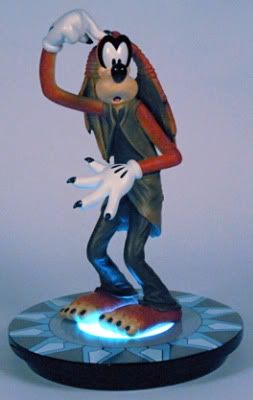 The Goofy Jar Jar Binks collectible figure retailed for $200 last summer's Star Wars Weekends events at Disneyland and Disney World, and spawned a dramatically-less-expensive yet just-as-worthless packaged action figure version.
I haven't seen a scam this audacious since the producers of  I'm a Celebrity… Get Me Out of Here! sold a full season to NBC.  Not coincidentally, both Goofy Jar Jar and Heidi & Spencer make me throw up a little.  They're related by bile.
Enjoy this post? Subscribe to Great White Snark by – or by RSS.