My posts are nothing if not timely, people!  In fact, next week–to the chagrin of exactly four people–I'll be spilling the beans on the shocking secret behind… The Crying Game!  So, you know… spoilers!  You've been warned.
In the spirit of keeping things all 1986-ish and such, I bring you this Little Shop of Horrors cake in the likeness of Audrey II, courtesy of cake-maker Erin (formerly of TMNT cake fame).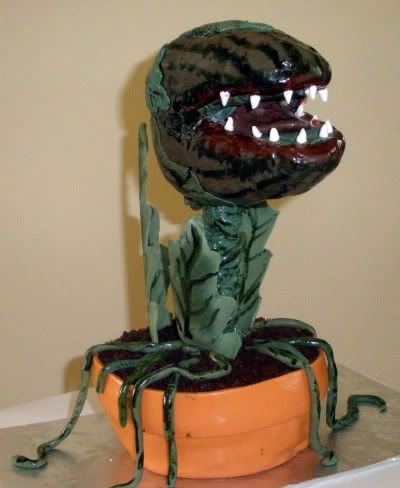 I made [this] cake for my best friend's birthday. I'm pretty much the best best friend ever.
Ah, yes. Erin's humility is just as arousing as I remember it. Typing out the rest of this post will be quite the challenge, what with the fevered perspiration getting in my eyes and the blood rushing out of my head.
She asked for Audrey II from "Little Shop of Horrors." I constructed Audrey II out of Rice Krispies treats and cake covered in fondant. Unfortunately, the A/C was broken at my house that day and the HVAC man couldn't come until several days later, so it was 87 degrees INSIDE (I checked) while I was putting her together. I had to work quickly because she started melting almost immediately. As soon as she was finished, I set her up inside the refrigerator in an attempt to prevent her from melting into a big pile of mush before my friend got to see her. Luckily, Audrey II survived with all of her appendages intact!
Erin, I'll never get tired of your descriptions of your own heroics. They're like sweet, sweet wine for my ears. (If wine were, like, really good music and not something that could cause an infection or damage if it were poured into my aural cavities.)
Please promise that you'll send more impressive, geeky cakes my way, and that each one will be accompanied by a story that illustrates yet another facet of your multi-dimensional, unabashed awesomeness.
Enjoy this post? Subscribe to Great White Snark by – or by RSS.