Holly knows that a cake in the likeness of a zombie head with exposed brains and the evidence of its last, bloody meal still stained around its lips says two things: (1) I love you, and (2) have a happy, happy birthday.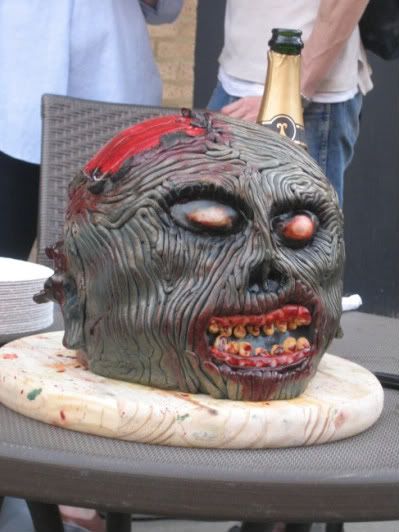 I had the zombie cake made at Bleeding Heart Bakery in Chicago for my boyfriend's birthday.  It was a red velvet cake (of course).
Of course it's red velvet cake! Because there's no such thing as decomposing-flesh-with-festering-sores-flavored cake. (I know, because I checked on The Google.)
Bleeding Heart Bakery produces a variety of dessert-type goods from ingredients that are local, sustainable, organic, and vegan. Which is a hell of a lot of earth-savin' for just one bakery.
Lest you think that cakes made of hippie bullshit must taste a lot like rice cakes soaked in flax seed oil, let me dissuade you from that idea. As a former resident of Berkeley, the hippie bullshit capital of the world, I can tell you that these uber-wholesome baked goods can be surprisingly delicious. In spite of the absence of baby deer meat trucked all the way from Alaska.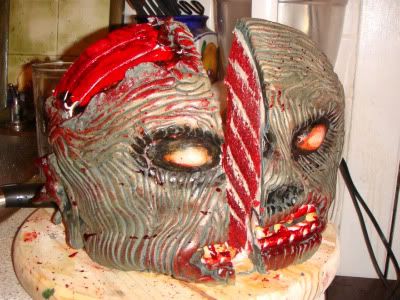 Thanks to Holly–who is clearly a girlfriend of the highest caliber–for sharing the deets with me.  Check out more photos of the dismembered zombie cake on Holly's Flickr photostream and her friend naycolla's photostream.
Enjoy this post? Subscribe to Great White Snark by – or by RSS.