I don't usually troll around on G.I. Joe news & forums site HissTank.com, 'cause I'm not usually in the market for the latest toy-collecting-nerd perspective on the color dye used on the latest latest Storm Shadow action figure variant.
But that's exactly the kind of hardcore toy nerdery that Paul of The Robot's Pajamas is into, and he's sent along the details of this Cobra Hiss Tank cake found in the HissTank.com forums.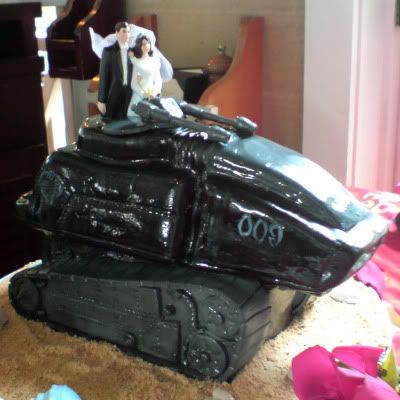 So – what do you get when a HISSTANK.COM Admin gets married and has a cool ass new wife? A Hiss Tank Cake of course!

Our very own DESTRO celebrated his marriage with a reception this weekend and was surprised along with the rest of us (that knew wtf it was) with a custom made Hiss Tank cake. From across the room, we thought it was just a Hiss Tank toy (which would have been weird there, but we weren't saying anything), but up close, you can see all it's cakey-ness – Cobra Symbol, Wife, Groom and all.
Yes, but what flavor? I can only assume it's red velvet, in honor of all the blood that's never, ever spilled during the course of an episode of the G.I. Joe cartoon.  Or fruit cake, in honor of the brain trust that made the upcoming movie a Wayans Brothers comedy vehicle.
(If my cynicism seems particularly healthy today, it's because I've been keeping it on a steady diet of protein and commercials for VH1 reality show fare.)
Not to get all sentimental, but you see how the groom has given his ladylove the first go at firing the main canons on top of the tank?  That's just about the most romantic thing I've seen since Veronica Mars made out for the first time with Logan Echolls.
Remember that? Logan was all, "I'm shooting for a look of 'smoldering intensity,' except I'm busy catching flies with my mouth, which is hanging open once again." And then Veronica was all, "Oh man, I am so hesitant to make out with you, but you protect me, just like my dad the witty-former-sheriff does! I love people who are witty and protective like my dad the former sheriff.  Fine, I'll give you a dandy of a smoocher, but then I've got to jump in my Chrysler LeBaron convertible gets the heck out of here! P.S. Have you seen my mom anywhere?!" Remember? Sigh.*
* Forgive my prattling. TheWB is showing old Veronica Mars episodes, and I'll be damned if that clever little pixie hasn't captured my full attention (<–euphemism) all over again.
Enjoy this post? Subscribe to Great White Snark by – or by RSS.