Behold the Terminator Salvation Knife Replica, perhaps the laziest piece of licensed cross-promotional merchandising in the history of ever.  I mean, hi. It's a regular survivalist-type knife. That happens to say "Terminator Salvation" on it.
If merchandising were really as easy as slapping the movie's logo on some object of minor-to-moderate interest from the film, don't you think the marketers behind The Matrix would have branded their own sunglasses for the undiscerning, consumerist fanboys and -girls of the world?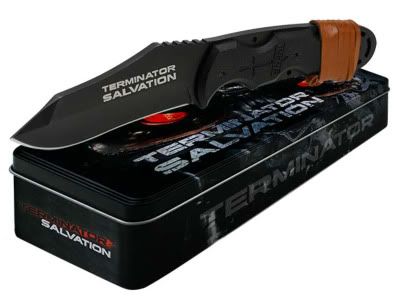 Oh, wait. Bad example.
Anyway. At least there's an overlap between the markets of sunglasses-wearers and movie fans. Just how many knife-enthusiasts also happen to be sci-fi film nerds?? (Don't answer that. I'm happier and more secure in my blissful ignorance.)
So you're not just an example of lazy merchandising, Terminator Salvation knife replica, you're also ill-conceived!  Not to mention a bit lewd:
…features a 3 1/2 inch full tang 440 stainless steel blade with a resilient matte black finish, the Terminator Salvation blade insignia and a partially ridged blade back for dexterous maneuverability. The elegantly contoured full tang handle features durable black G-10 handle scales and a brown leather lacing.
I don't know much in the way of knives, but when I hear about that much 'tang, I fully expect Jamie Lee Curtis' character from Trading Places to quote me an hourly rate.
Via Nerd Approved.
Enjoy this post? Subscribe to Great White Snark by – or by RSS.