After a temporary ebb, Harry Potter enthusiasm has flowed once again thanks to the release of Harry Potter and the Half-Blood Prince in theaters this week.
But some fans drinketh of the cup of fandom a little too deeply.
5) Voldemort Tattoo – The Un-sexy-fier
The last thing I want to see on a woman's naked leg (where this particular ink can be found) is a portrait of an angry bald dude with a gaping nasal cavity and bad teeth.
On the list of things that put me in the mood, that's right up there with being stripped, covered with catnip, and thrown in a barrel of angry strays.
On a Somali pirate ship being piloted too close to a rocky shore by a sloppy-drunk David Hasselhoff.
Not sexy.
4) A Too-Pretty Harry Potter Portrait Tattoo
Sorry, scratch that last thought. The last thing you want tattooed on one of your limbs is a portrait of an underage boy portrayed to look a lot like a pretty, underage girl.
Except maybe in Thailand. I hear it's a bit easier to get away with that kind of nonsense over there.
3) The "I like Dumbledore, just not in that way" Tattoo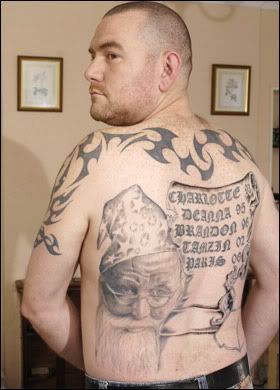 Oh, man. Homophobia's a bitch when you unwittingly plaster the face of an old, gay dude across your back. From The Sun:
Proud Paul, 36, spent a YEAR having the Hogwarts headmaster etched into his skin as a surprise for his five kids.

But the factory worker has been the butt of jokes ever since Harry Potter author JK Rowling revealed last week that Dumbledore was in love with a fellow male sorcerer.

Paul, of Nottingham, moaned yesterday: "It's been terrible. I've always liked Dumbledore – just not in that way."
Classic.
2) Harry Potter Quote as a Dirty Euphemism Tattoo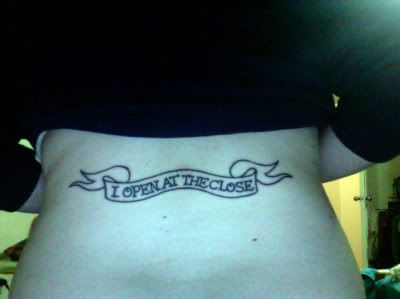 Yes, I understand that this quote represents an important plot turn in the final book of the Harry Potter series.  And I'm sure the bearer of this ink had innocent intentions.
But if a lower-back tattoo that says, "I open at the close," isn't an invitation for having intercourse in the netherest of regions… then I don't know what is.
1) Harry Potter Neck Tattoo
And she lived happily ever after, secure in the knowledge that no one would take her seriously, ever, ever again. Ever.
Find Harry Potter temporary tattoos on Ebay