You wanted to spend your day awash in Comic-Con costumes, right? Yes, I thought so.
I accept demonstrations of gratitude in the form of exotic Maori tribal dances and American dollars.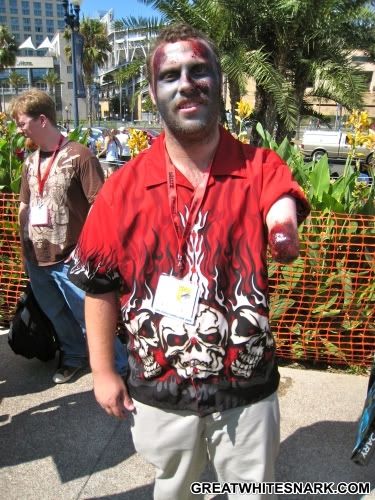 Unless you have ever lost a limb and then have gone to Comic-Con as a zombie, having painted your missing limb like a bloody stump, you have never been as committed to a costume as this guy is. Never.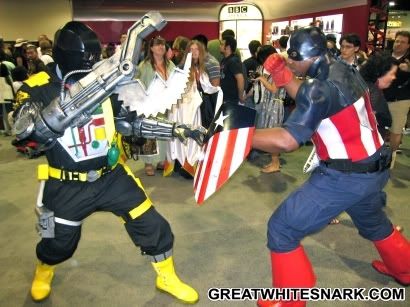 Sometimes a Cobra Trooper will fight Black Captain America. This is a thing that happens. At Comic-Con.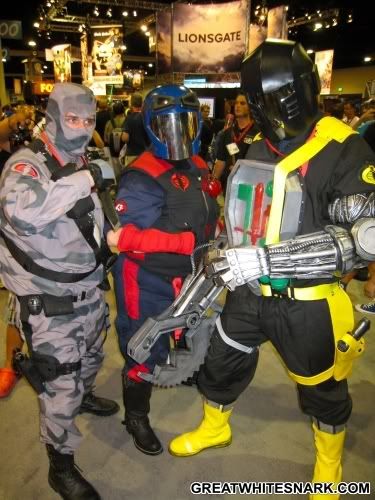 I don't care that these guys are a little on the hefty side. Cobra costumes are still cool, and you never see these particular ones. Which I cannot name because I am weak of mind before 1p. (Who wants to earn a finger-gun salute in the comments?)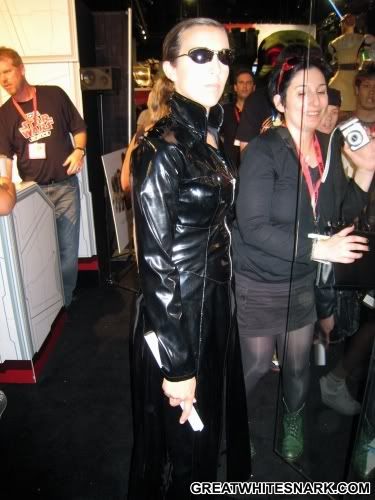 Lady in a Trinity costume taking her character very seriously.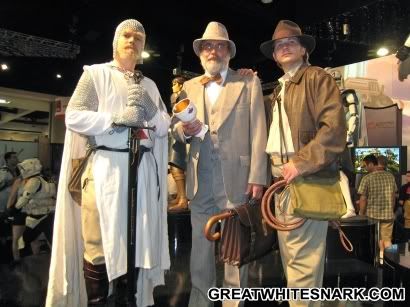 The boys from Indiana Jones and the Last Crusade. LucasFilm will let anyone in their booth.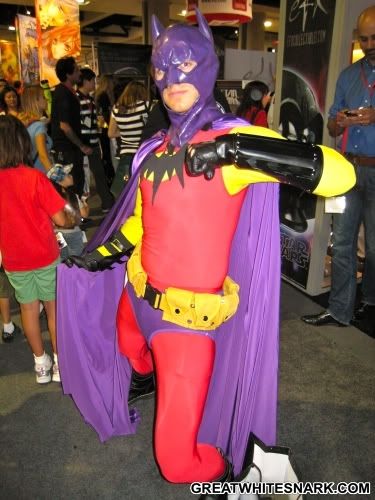 Batman costume from the recent R.I.P. storyline. I'm sure those of you not in-the-know are wondering why Batman joined a circus from the 1960s.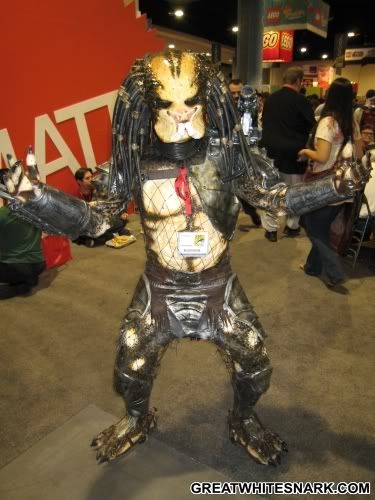 Predator costume. 'Nuff said.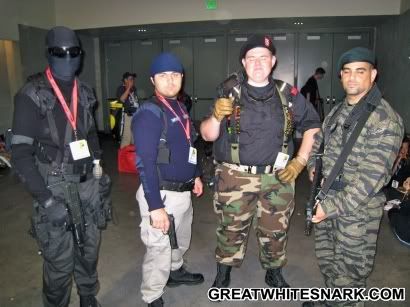 It's funny how quickly an ill-timed blink can diminish one's badassery, eh, guys?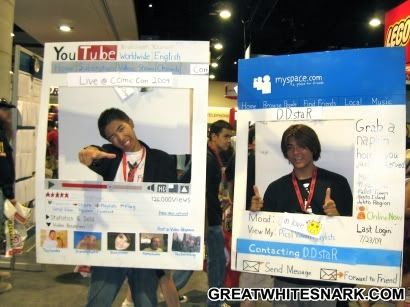 Ten points for creativity, seven for execution.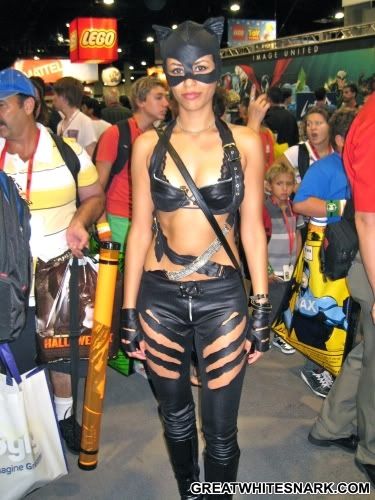 Like I said before, lots of Catwoman costumes. And it is my personal struggle to document them in all of their form-fitting, skin-exposing glory.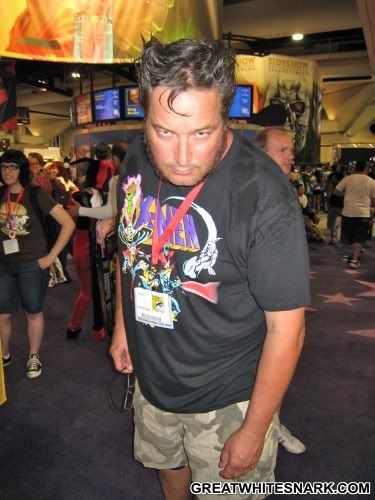 I'm calling it early: laziest costume at Comic-Con. If you hadn't guessed based solely on the hair and chops, this is Wolverine.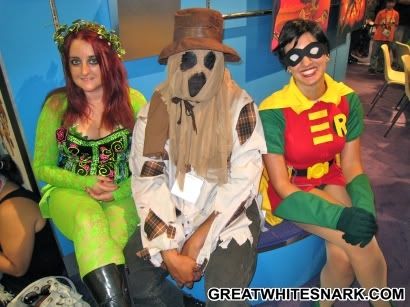 Speaking of lazy. Me: "Do you want to stand up?" Robin: "No. I'm supposed to be fighting them, but I'm too lazy."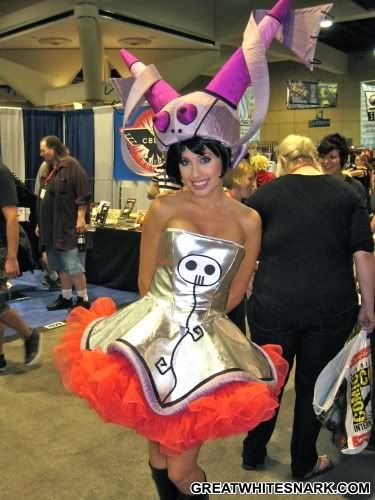 Booth babes create oxygen through photosynthesis and nourish all of us! It's a fact. They are also all guaranteed to be wearing a costume for something you won't recognize.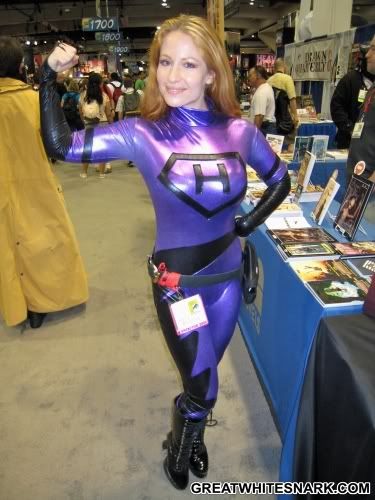 Take this woman, for instance. Those are the breasts of someone hired to promote something. And who the hell knows what that thing is.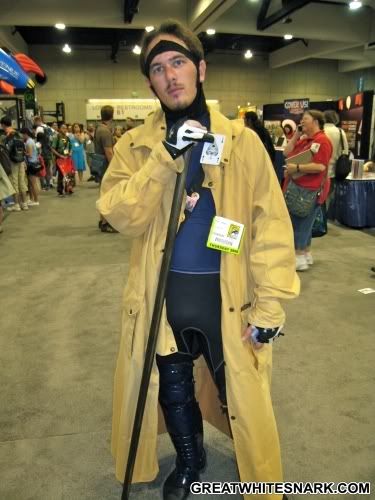 Gambit costume.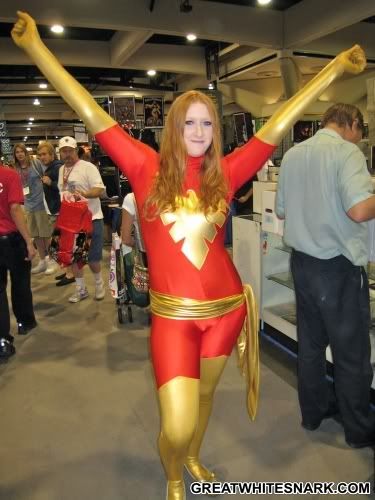 Yay, I'm the Phoenix! Yaaaaaay!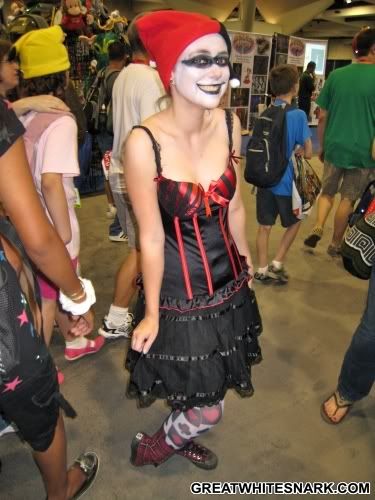 I literally cajoled this girl into striking a pose, and this is what she came up with. I take what I can get.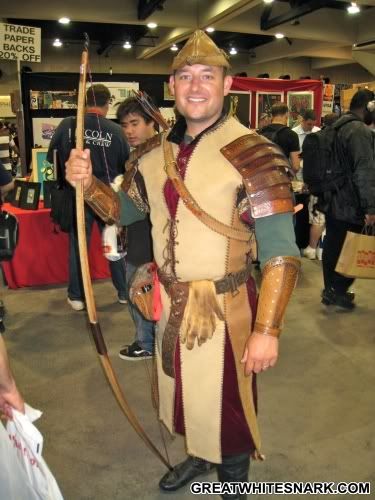 Home-made Robin Hood costume. There are apparently riveted leather pieces on there or something like that.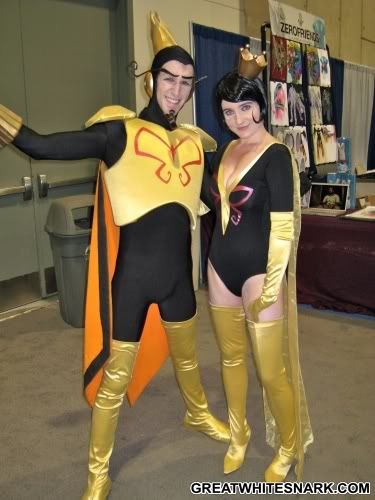 These are Venture Bros characters, right?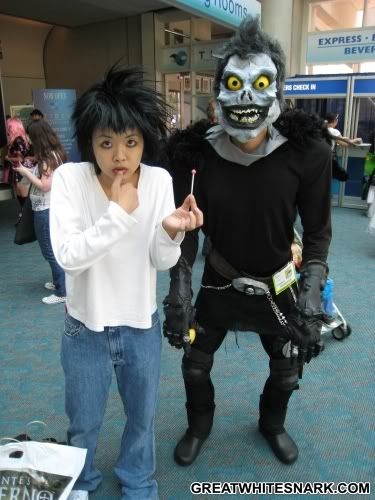 Death Note costumes. Ok, I've been reminded that the monster is Ryuk the Shinigami, but I forget the name of the sulky boy genius kid.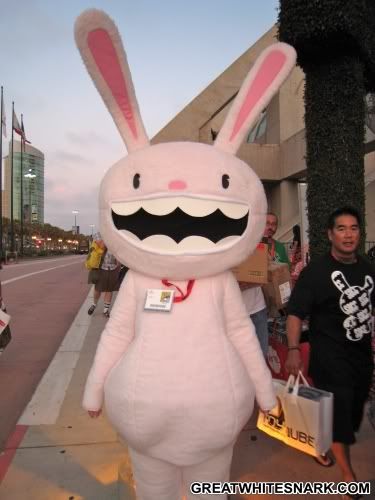 Max from Sam & Max. Whom I didn't recognize at first because he was pink. And six feet tall.
Enjoy this post? Subscribe to Great White Snark by – or by RSS.