Lots of Harley Quinn and Poison Ivy costumes (again) today at Comic-Con. Just giving you fair warning. Not everyone can pull it off like Uma Thurman (barely) did.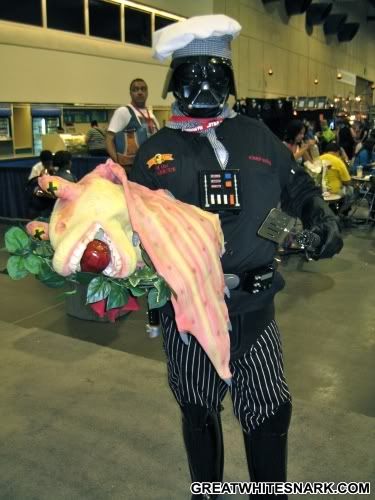 Best… costume… ever?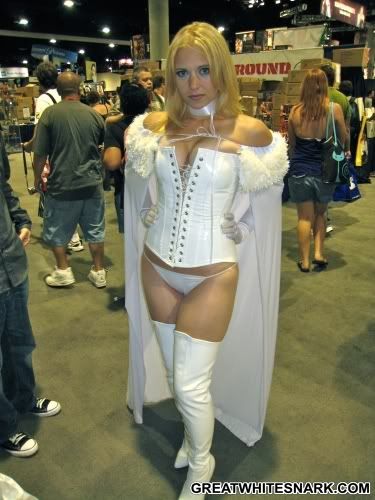 The White Queen. With all of her cleavage right where I remember seeing it last.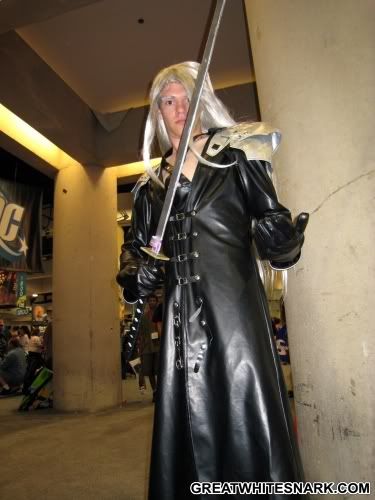 Wait a tic… Final Fantasy cosplay? What the bloody nerfherder was that doing on my camera?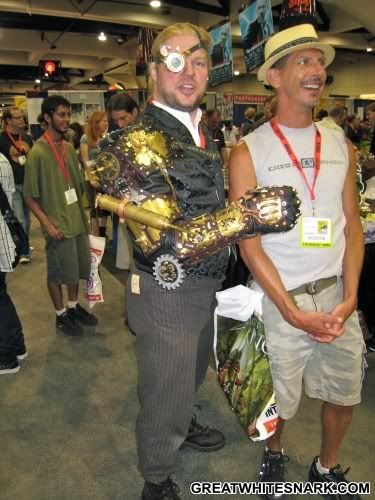 Steampunk Borg.  Elevating Star Trek at least 17% above completely uncool.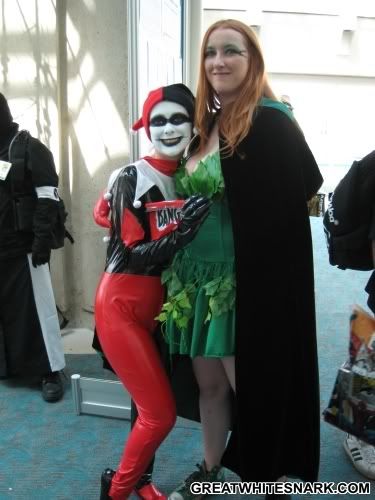 I mentioned all the Harley Quinn and Poison Ivy costumes, right?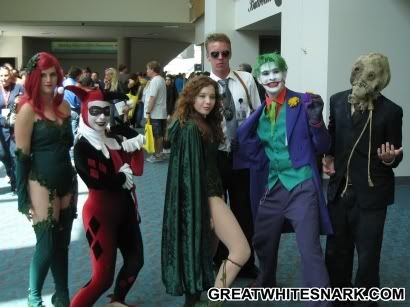 And here they are again, joined by more of Batman's gallery of rogues.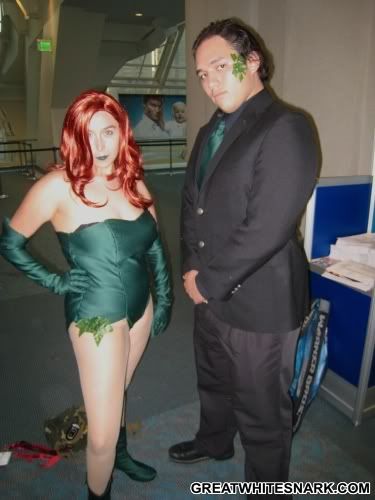 Poision Ivy and Mr. Ivy?

And another Poison Ivy costume…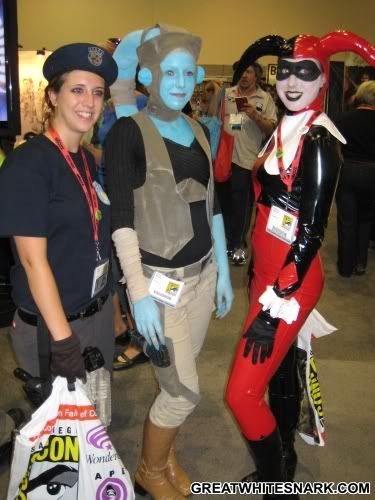 …and I'm spent.  Unless I see a Harley Quinn or Poison Ivy in a body paint costume tomorrow, I won't be capturing any more of them on film.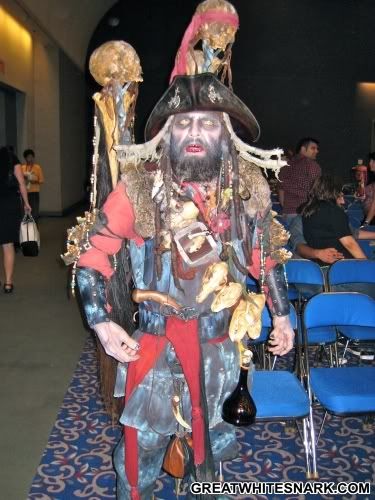 This guy in the pirate get-up kept insisting with heavy breath that he wasn't in a costume. And I believe you, sir.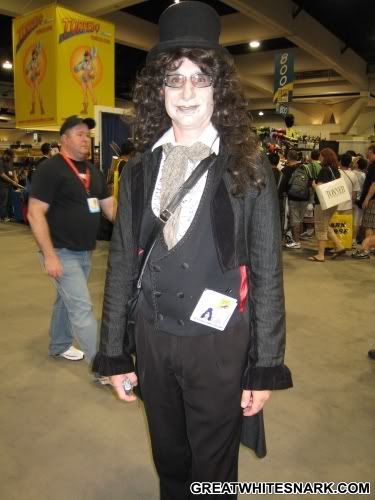 "Howard Stern as The Mortician from Batman." His words, not mine.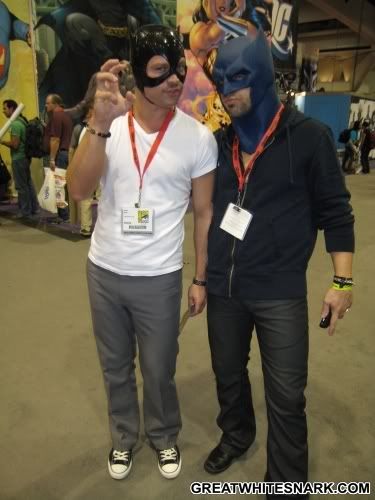 Hipster Catwoman and Batman. Absolutely reeking of indifferent irony. CORRECTION! Sharp-eyed reader Becky pointed out in the comments that this is actually singer Chris Daughtry "dressed" as Batman, accompanied by his drummer Joey Barnes as "Cat-Whoa!-man." (Still reeking of indifferent irony, though.)

Yeah. Nothing ironic about that. Or particularly logical.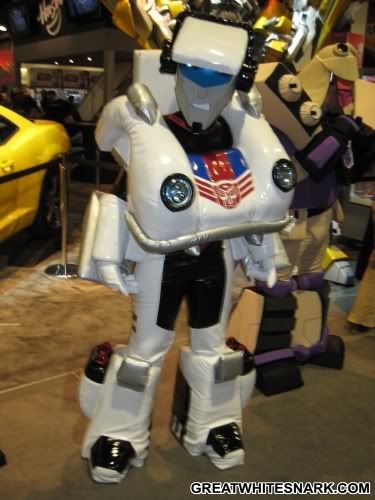 If you're not into Transformers Animated, you might want to skip the next few photos.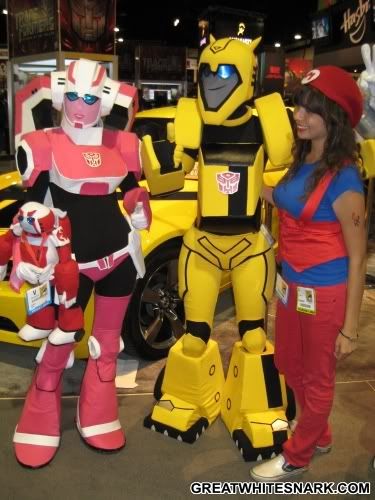 Yep. There they are. All cartoony and stuff.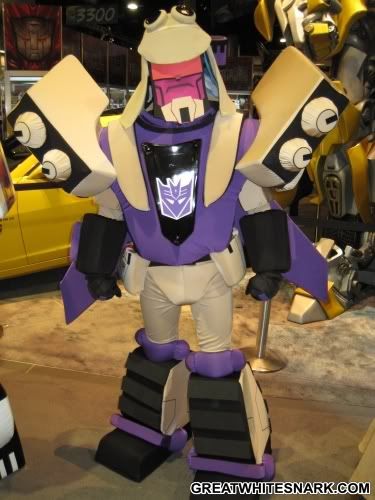 Got to give them credit, though… the costumes are quite good. Too bad they didn't go old school. Or actually transform. (Not that I'm picky or anything.)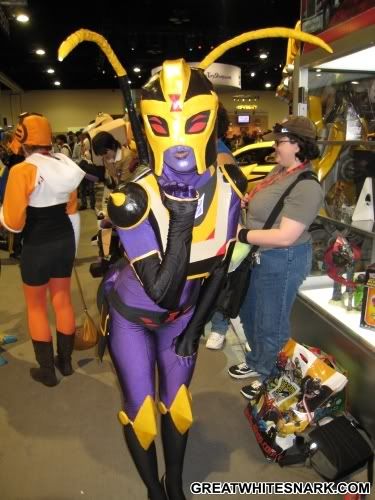 At least this one was flirty.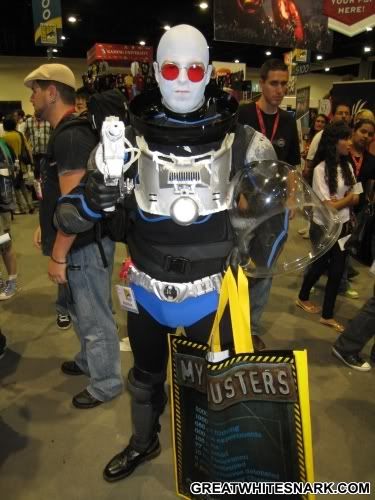 I walked with this guy across half of the con floor to get him to stop for a two-second shot. This is what my life has become.
Enjoy this post? Subscribe to Great White Snark by – or by RSS.