Warning: near-nakedness and ahead.  And believe me when I say it is at your expense, not for your pleasure.

Two, two, TWO Slave Leias! And some other guy.

This baby says so much with just his eyes.  "Oy. Do you see this? Do you see what I live with?"

A Scarlett Witch costume.  Plus a little something you rarely catch a glimpse of at Comic-Con: abdominal muscles.

The broad on the right caressed my cheek and offered me a "smexy" picture for $5. Since I except a top to come off for $5, we just took a regular picture.

Nick Fury and Black Widow costumes. Damn fine pieces of work. Which makes it maddeningly difficult for me to say anything interesting about them.

Some naked guy from Frisky Dingo. Enjoy.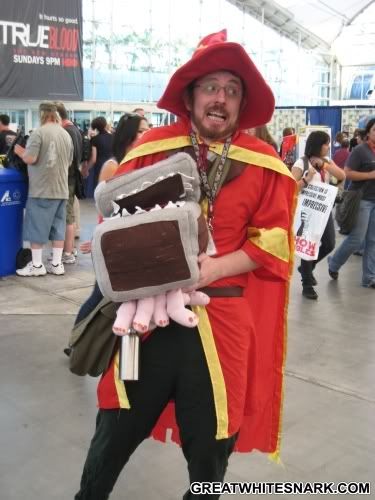 And there's that guy.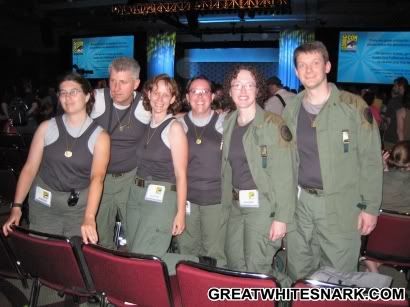 The missing Viper pilots. Missing = have never seen them before.

I don't know… but I like it.

Yep. Still like it.

Jack. In the box.

A Mystique costume with perhaps the best body paint job I've seen. That is a lot of blue skin.

Dunnoh.

Did you know that "Witchblade" is actually a Japanese word for T&A?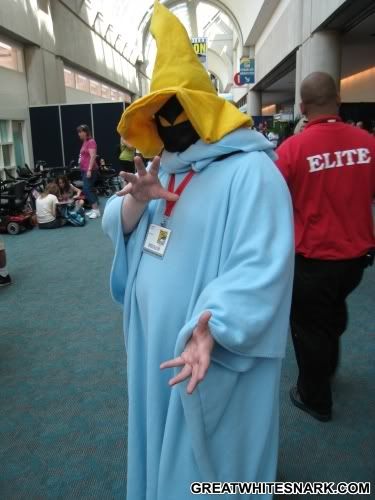 The "Dark Mage" of complete un-darkness.
Find superhero costumes on Ebay
Enjoy this post? Subscribe to Great White Snark by – or by RSS.