I've showcased a happy pantload (illustrative and charming, I know) and then some of Star Wars cakes here on GWS. Now you know what it takes for a Jawa cake to finally make it into the mix:
A wire dialogue balloon featuring the famous (yet misspelled) Jawa cry, "Utinni!"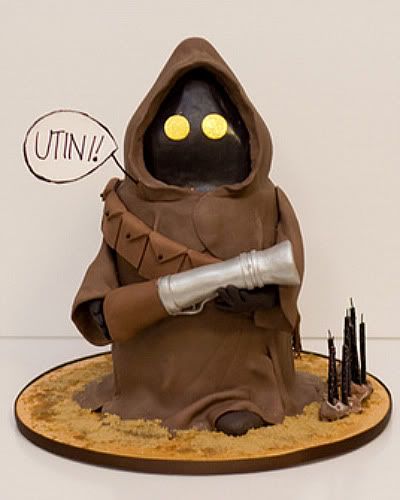 The standards around here might be arbitrary, but at least they're specific.
The Jawa cake comes to us courtesy of Melbourne-based cake artisan sweetlibertinecakes, who describes the cake thusly:
A cake for a huge Star Wars geek's 40th. Rum and Raisin Chocolate cake, 3×6 inch cakes and 1×5 inch carved. All accents are gumpaste or fondant.

"utini!" is the only legible word said by the Jawa in Star Wars and everybody at the party knew exactly what it was.
Oh, sweetlibertine. So talented… so uninformed. According to Wookieepedia, there are almost 70 known words in "Jawaese," and about 25 known phrases… several of which I'm sure originated in Star Wars (i.e., Episode IV).
So, with that, I leave you with, "Utinni! Utto nye usabia atoonyoba?" Which, literally translated, means, "Hey! Want to buy a used droid?" And, loosely translated, means, "Do you wish that I metaphorically pummel you about the head and shoulders with the heft and substance of more righteous nerd knowledge?"
Check out more of sweetlibertine's cakes in her Flickr photostream, if you can forgive her transgressions.
Find Star Wars cake toppers on Ebay
Enjoy this post? Subscribe to Great White Snark by – or by RSS.