Sure, I've posted a beautifully-crafted Star Wars Ewok cake on GWS before, but for what this one lacks in finesse, it clearly compensates by perfectly-capturing an Ewok's glassy-eyed, fixed point stare.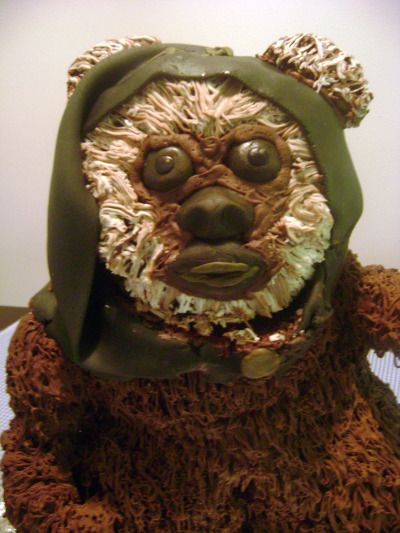 That is the deceptively-vacant stare of a cuddly forest-dweller whose buddies can annihilate a Stormtrooper battalion with their tiny, fuzzy, technologically-unsophisticated hands.
Behold Victoria's first attempt at a 3D sculpture cake for her nephew's 6th birthday. And not too shabby an attempt, either, even if the "fur" looks like "rained-upon fur."
I used red velvet [cake for the legs] so that when you cut into the cake it would look like a bloody mess (I'm just that kind of Auntie). I made two angel food cakes […] for the torso. I used rice crispy treats to cover the arms that were constructed using wire coat hanger covered in foil. Of all things, the arms were the most difficult because the krispy treats kept falling off the underside of the arms!! What a mess!
I can just hear the responses from the cake purists and their "100%-edible" scripture, now: "Faye Dunaway in Mommie Dearest put it best: NO WIRE HANGERS… EVAR!"
But wait, there's more:
I covered everything with chocolate icing and made the "fur" by using Wilton tip #233 (geez, my hands sore after that process). The facial features and head covering were made using fondant.

The best part of the whole thing was that when we cut into it we literally had to dismember him to eat him. It was so much fun in an oddly disgusting way. But hey, it was a six year old's birthday party. It should be a little gross, right?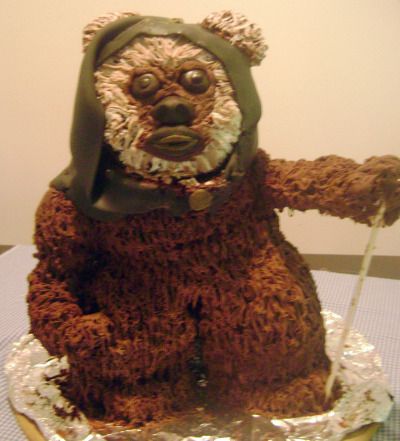 I'm seeing a theme here. And the fascination with dismemberment seems to run in the family:
My nephew even cut off the head and has been saving it in his fridge for months now!!
Oh, goodie. Now I can look forward to my traffic skyrocketing from Google results for "serial killer."
Thanks to Victoria for sending in the details.
Find custom Star Wars figures on Ebay
Enjoy this post? Subscribe to Great White Snark by – or by RSS.