No, not little peppermints in a novelty zombie tin. These are zombie mints in the sense that they make your breath smell like zombie's.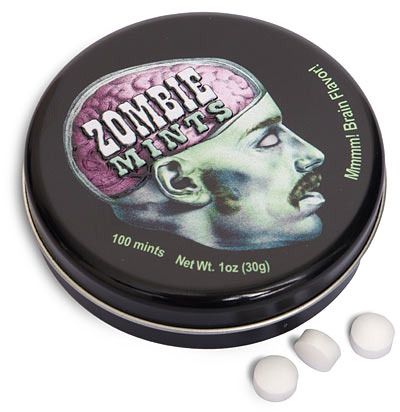 Seriously, though. Check out the list of ingredients: dextrose, maltodextrin, magnesium stearate, titanium dioxide, and artificial meat flavor.
So, now you can go about your day knowing that such a thing as "artificial meat flavor" exists. And if you can think of a practical application for it beyond novelty candy and dog food, I'll salute you in the best way I know how: a begrudgingly nod that acknowledges you're not quite as simple as I thought you were.
Yeah. Don't go jumping all over yourselves trying to impress me now that you know the riches of validation that await you.
Enjoy this post? Subscribe to Great White Snark by – or by RSS.