Amazing cake, eh? Remember this guy from the Star Wars prequels? He served on the Jedi Council, fought in the Clone Wars battle scenes, and otherwise spent many other seconds on screen in front of various CGI backdrops. Remember?
Yeah. Well, his name is Plo Koon. You're welcome. Now when you're having one of your frequent conversations about all the random Jedi who appeared in the prequels, you can stop referring to him as, "Not the hot one. No, not him. The other one."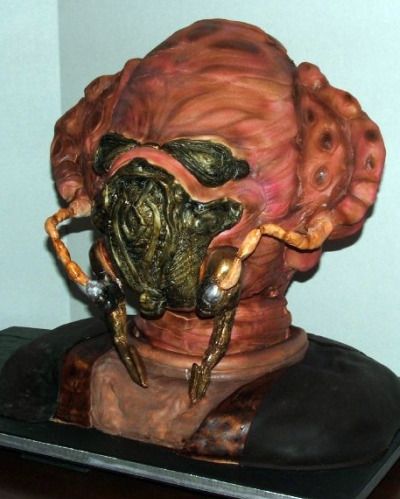 This French vanilla with butter cream Star Wars cake with an uncanny, life-sized, fondant-y likeness of Plo Koon comes to us* thanks to Patty of MeMe's Treat Boutique, who created it "this past summer for the VIP dinners with Jeremy Bulloch (actor who played Boba Fett), David Filoni, and Ashley Eckstein of Clone Wars." Neat.
* I.e., the royal me.
Find Star Wars sweets and other recipes in Wookiee Cookies: A Star Wars Cookbook.
Enjoy this post? Subscribe to Great White Snark by – or by RSS.