I think Teri is trying to force me into retirement. Otherwise, she wouldn't have sent me the details on this chocolate (with chocolate mousse filling) Metal Gear Solid cake by Rosebud Cakes.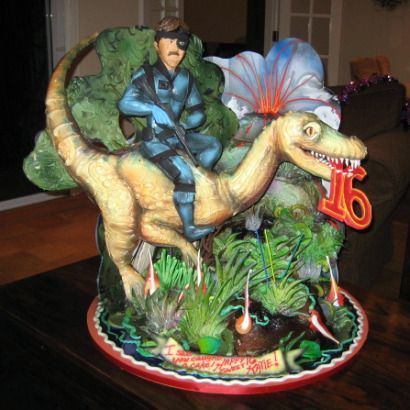 Game over, man. I can only hope the Lords of the Internetubules can someday deliver unto me a confectionery geeky specimen that won't pale in comparison to this one.
Unless you can think of something more geeky than video game character Solid Snake riding a Velociraptor made out of chocolate. Which you can't. (But feel free to send me your most valiant efforts.)
Teri got in touch with me with the Metal Gear Solid cake's details after seeing the Sweet 16 Dinosaur Cake a couple of weeks ago.
I wholeheartedly concur about the Sweet 16 issue and even your thoughts on teenagers in general.
They're self-involved ingrates with occasional bouts of entertainment value?
Having four in my blended family, I see your point, but mine are different, being geeks, the whole lot of them.  All sweethearts.  Anyway, my daughter just turned sixteen this year and for her Sweet 16, we got her a pretty damned awesome cake combining her two favorite things on the planet, pretty much, those being Metal Gear Solid and dinosaurs—velociraptors, to be exact.  What better cake than the game's main character, Solid Snake, riding a velociraptor?  The cake was made with actual frosting, not gum paste or molded chocolate like some specialized cakes, and most of it was edible.  And delicious.  She loved it and her friends loved it.
Thanks for giving me continued hope for America's youth, Teri. Even though hope and America's youth both give me the sort of intestinal discomfort than can only come with the confident expectation of complete disappointment. I still appreciate it.
Nerd fact: Velociraptors were actually less than a meter tall and had feathers. But no one'll ever make a sci-fi blockbuster about really angry herons, so screw "facts."
Find Metal Gear Solid figures on Ebay