Sometimes it doesn't take much, does it? Look upon Jason's simple "Sarlacc Surprise" Bundt cake and enjoy the small spike in serotonin in your brain prompted by mild-to-moderate delight.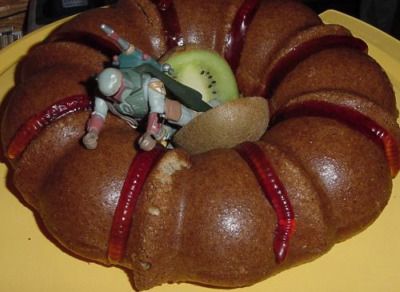 Without Boba Fett, this piece certainly wouldn't lack in prettiness (in an avant garde sort of way). But it doesn't become a Sarlacc cake until the Fett's presence cleverly reveals–in the beholder's perception–the identity of each of the ingredients:
Banana-nut bread pit, Kiwi Sarlacc, gummi tentacles, and one poor little bounty hunter…
That's artistry, people. Also? A sticky action figure. The resale value on Ebay just went all to hell.
Find Wookiee Cookies: A Star Wars Cookbook on Amazon
Enjoy this post? Subscribe to Great White Snark by – or by RSS.