« Surprise!: Super Mario Master Chief Tattoo [Geeky Tattoo] | Main | Bad Idea, Trekkers: Vulcan Foam Hand »
By Great White Snark | October 26, 2009
Sometimes it doesn't take much, does it? Look upon Jason's simple "Sarlacc Surprise" Bundt cake and enjoy the small spike in serotonin in your brain prompted by mild-to-moderate delight.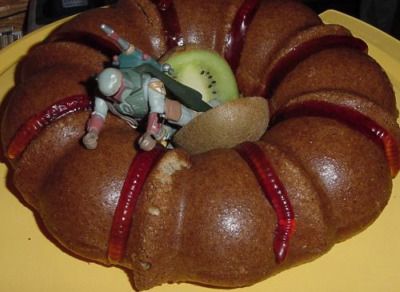 Without Boba Fett, this piece certainly wouldn't lack in prettiness (in an avant garde sort of way). But it doesn't become a Sarlacc cake until the Fett's presence cleverly reveals–in the beholder's perception–the identity of each of the ingredients:
Banana-nut bread pit, Kiwi Sarlacc, gummi tentacles, and one poor little bounty hunter…
That's artistry, people. Also? A sticky action figure. The resale value on Ebay just went all to hell.
Find Wookiee Cookies: A Star Wars Cookbook on Amazon
Enjoy this post? Subscribe to Great White Snark by email or by RSS.
You may also like these stories:
Topics: Cakes, Star Wars | 2 Comments »
Tags: Boba Fett, Cakes, Geeky Cake, Sarlacc, Star Wars, Star Wars cakes
2 Responses to "Simple Pleasures: Sarlacc Bundt Cake [Geeky Cake]"
Randi Says:
October 27th, 2009 at 12:28 pm

Haha. Three out of the last five posts on here have been Boba Fett related.

Great White Snark Says:
October 27th, 2009 at 12:35 pm

When the guy is on a roll, I'm not going to try to stand in his way.
Comments