« Mmmmm, Lobe: Bloody Brain Cake [Geeky Cake] | Main | Thanks, Japan: Sega Zippo Lighters »
By Great White Snark | October 29, 2009
Christina took this picture of her four-year-old daughter Ava in a Jareth the Goblin King costume, in which Ava impressively channels the spirit of David Bowie (and of David Bowie's hair) from 1986 and Labyrinth.*
And the reverberations from the resulting gasps almost shattered the internetal tubules.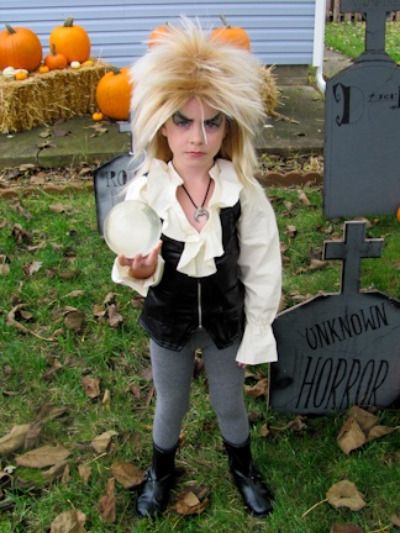 Many of my (attractive, enlightened, and well-groomed) Twitter followers saw this yesterday, but the rest of you deserve to see it, too. Or so your parole officer says.
Thanks to my friend Jen at Cake Wrecks for the find. She's proof that lots of good things can come out of a small package.(SHORT JOKE!)
* ajoohoo points out: "where's the codpiece? can't be Jareth without the space/time altering codpiece." Obviously a codpiece has no place on a four-year-old. At least until Abercrombie & Fitch has something to say about it.

Find the Jareth The Goblin King action figure on Amazon
Enjoy this post? Subscribe to Great White Snark by email or by RSS.
You may also like these stories:
Topics: Costumes, Movies | 2 Comments »
Tags: cosplay, Costumes, Halloween, Labyrinth, Movies
2 Responses to "Behold: Mini-Bowie! 4-Year-Old in a Jareth the Goblin King Costume [Labyrinth Cosplay]"
Christina Says:
October 30th, 2009 at 9:27 am

HA! This is my daughter!! I can't believe the buzz this is getting! Well, I can. I knew my daughter was awesome. I've just been waiting for the world to see. ;) Thanks so much for the blog post!

Sister Brighid Says:
November 2nd, 2009 at 5:42 pm

You remind me of the babe!

Awesome, truly awesome.
Comments