I debated posting this Cthulhu cake by Clever Cake Studio, since sightings of H.P. Lovecraft's horrible Cthulhu have been known to cause spontaneous eye-bleeding, bed-wetting, and Stalinism.
While bed-wetting is hilarious, I'd probably feel bad if I turned you people into bloody-eyed fascist oppressors.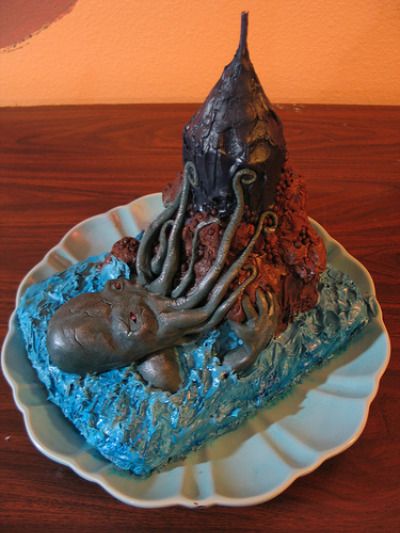 But there's the pic. So apparently I wouldn't feel too bad.
Here's the deets from Lori at Clever Cake:
Here is Cthulhu rising from the oceans, using a convenient little island with a tower on it to climb up. The base was cherry-chip cake, the island and tower a mix of cherry chip and yellow cake with chocolate frosting. Also used small chocolate 'pearls' as rocks. Cthulhu himself is all fondant, with two chocolate pearls that I seeped in red dye for eyes.
Find the (evilly) adorable plush Cthulhu on ThinkGeek
Enjoy this post? Subscribe to Great White Snark by – or by RSS.