Meet Michael Boyce, an artist who runs On Comic Ground, a comics shop in San Diego.
You don't have to look too hard to find Michael's feminine side. It's pretty much all over him. Michael has plastered major portions of his body with tattoos of various comic book superheroines.

Photo Credit: Chris Wass

Or, "lady superhero" tattoos, if you will. Because that's more classy and shit.
Double-finger-gun-and-a-wink salute to you if you can name the majority of the comic book superheroines inked on his chest. I got bupkis.
But I do know that's the cover of Uncanny X-Men #101 indelibly marked on his back, featuring Storm and (the first appearance of!) Phoenix in all of their lady-ness.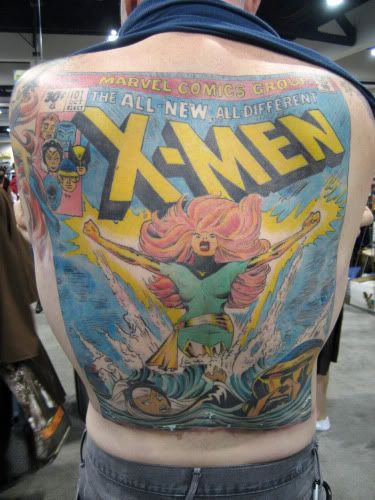 Photo Credit: Chris Wass

Ok. So, you've now reached the, "Yeah, I think I get the picture, that's a lot of tattoos of funnybook broads," point of the post. But if your desire to see a ridiculous number of comic book lady tattoos isn't quite sated, you can always check out photos of his tattoo arm sleeves.
Find custom X-Men figures on Ebay
Enjoy this post? Subscribe to Great White Snark by – or by RSS.