In case you don't ingest your internets as a constant, intravenous stream (as I do), perhaps you haven't already heard the fanboy-jolting news:
The Tauntaun Sleeping Bag–once a widely-discussed April Fool's joke and now a highly-coveted retail product–is now available for pre-order from ThinkGeek, just in time for the holiday consumerist binge.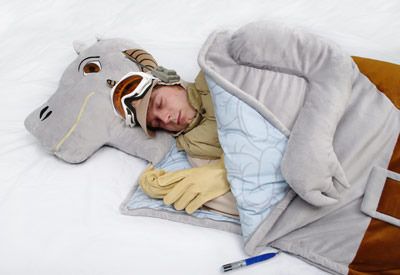 This high-quality sleeping bag looks just like a Tauntaun, complete with saddle, printed internal intestines, and a plush lightsaber zipper pull.
That's right. A lightsaber zipper pull. So you can gleefully "slice" open the tauntaun's guts. That's one childhood fantasy down, eh?
This sleeping bag really does have everything a tauntaun sleeping bag should. Except the smell. Which is a bonus.
Get the Tauntaun Sleeping Bag on ThinkGeek
Enjoy this post? Subscribe to Great White Snark by – or by RSS.