Oh, D&D nerds. You know I love* you the mostest. You've given me such joy with your LARPy goodness. Allow me to return the favor.
By way of Claudia of Cakerific comes this delightful chocolate with strawberry cake and fondant Dungeons & Dragons cake for Remi's birthday.
What? You don't know Remi? Sorry. I assumed all you people know each other. My small-mindedness is my weakness. Please forgive me.
Also? You probably don't like it when I call you, "you people." Sorry, again.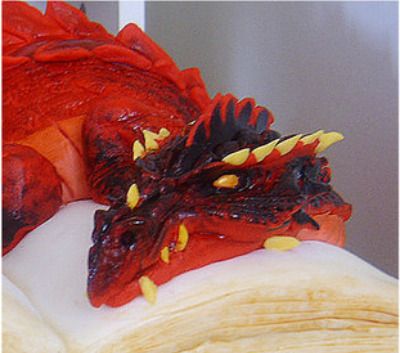 [Editor's Note: My dear D&D-playing readers, please take GWS with a grain of salt. He is a petty–albeit attractively angular–man with debilitating mutli-sided-dice envy.]
* Read: pity in the fondest possible way.
Find Chain Mail Coif on ThinkGeek. (No, seriously.)
Enjoy this post? Subscribe to Great White Snark by – or by RSS.