Hello Kitty Hell has pumped more than its fair share of wince-inducing Hello Kitty tattoos into the tubes of the interconnected nets (Hello Kitty Boba Fett tattoo, anyone?), but this Hello Kitty Punisher tattoo takes the (soy sauce-soaked Japanese rice) cake.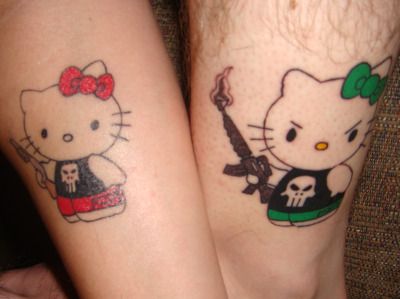 Kitty of Liberally-Licensed Annoyingly-Pandering (Non-)Cuteness, I know the Punisher, and you, dear, are no Punisher.
In spite of four* of my five senses feeling punished when I look at you.
* I threw up down the front of my shirt a little bit.
Find insane custom-made Hello Kitty items on Ebay
Enjoy this post? Subscribe to Great White Snark by – or by RSS.