Thanks to these life-like sculptures by contemporary artist Gilles Barbier, we know that no hero–not Superman, Captain America, nor Hulk–will survive the ravages of age.
For a second there, I thought that the catatonic (dead?) Catwoman was faring worst of all. But then I saw Wonder Woman's bosom. Holy southern migration, Batman.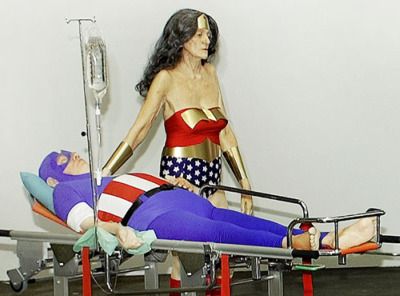 Via Nerdcore, who doesn't think it's time to retire a boddice until nipples meet navel.
Find custom Justice League figures on Ebay
Enjoy this post? Subscribe to Great White Snark by email or by RSS.