Someone spotted at the Tokyo Nail Expo yesterday apparently dipped their fingernails in partially-digested Hello Kitty parts.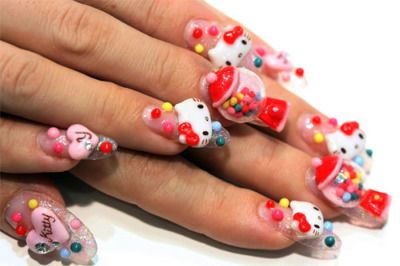 Fact: Hello Kitty has a gumball machines where her lower intestine should be. Which explains why nutty Japanese schoolgirls continue to gobble her crap up.
Via Tokyo Mango, who chooses to see Japan as "fruity," rather than "nutty."
Find custom Hello Kitty goods on Ebay
Enjoy this post? Subscribe to Great White Snark by email or by RSS.