« Sorry, Earth: Redneck Captain Planet Costume [Cosplay] | Main | Geek Steal: Save 20% or More on Comics, Toys, & Collectibles, Plus Free Shipping! »
By Great White Snark | December 3, 2009
This Incredible Hulk cake from El Paso's Chocolate Moose Cakes certainly has enough geek-factor, artistic merit, and uniqueness of execution to make it worth highlighting.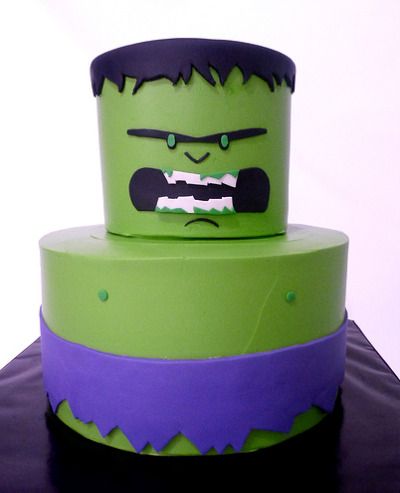 Photo Credit: chocmocakes on Flickr
But, really, the cake had me at green nipples. Those'll get you a post on GWS, every time. (Just try me, ladies.)
Via Super Punch, who likes his cakes fully-clothed, thankyouverymuch.
Find custom Hulk action figures on Ebay
Enjoy this post? Subscribe to Great White Snark by email or by RSS.
You may also like these stories:
Topics: Cakes, Comics | 2 Comments »
Tags: Cakes, Comics, Geeky Cake, Hulk
2 Responses to "Purple Nurple This: Incredible Hulk Cake [Geeky Cake]"
Movie Meg Says:
December 4th, 2009 at 10:28 am

Wow. All their cakes are awesomely geeky. Mmm, Bob-omb cake.

And look!
http://tinypic.com/r/155qbs1/6
Yet another reason why you should like Star Trek! :)

Great White Snark Says:
December 4th, 2009 at 11:51 am

Touche, Meg! I walked right into that one.
Comments