Here's my impression of Anne after she got her Darth Vader tattoo (from Tivis Phillips at Ancient Art Tattoo):
"Um, helloooo, my eyes are up here! Ha, ha. Seriously, though, you can stare at my chest. Why else would I put a big 'X marks the spot' in crisscrossed lightsabers there? Duhr."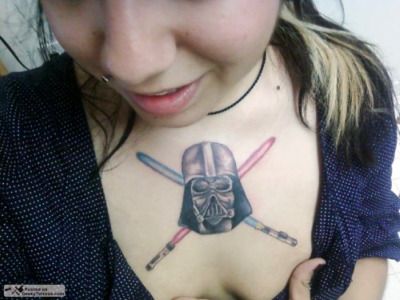 "By the way, is there something on my face? My nose itches. What? A nail? That's odd. I don't remember that being there this morning. Of course, I was busy staring at my chest tattoo, so who knows! Ha, ha! Look at it. It's all, 'Luke, join me and we can rule the mammaries together as father and son!' Right? Right? Ha, ha!"
And, scene.
Via Geeky Tattoos, who spares his readers from dramatic re-enactments.
Find Star Wars temporary tattoos on Ebay