« Twitter Link Roundup – Week Ending December 5, 2009 | Main | Geek Steal: 74% off Arrested Development – The Complete Series! »
By Great White Snark | December 7, 2009
Knowing my fondness for modified My Little Pony dolls, zombies, and demonstrations of hilariously-poor judgment, GWS reader katiedoyle sent me this Zombie My Little Pony tattoo.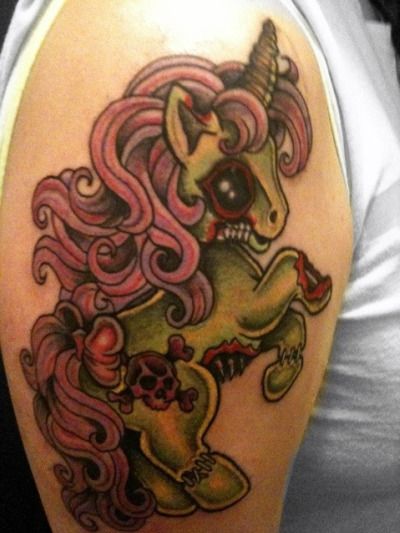 I wonder what this guy(?) hates more: My Little Pony, or his arm.
Via F*** Yeah Tattoos, who loves the f****** s*** out of tattoos.
Find custom My Little Pony figures on Ebay
You may also like these stories:
Topics: Tattoos, Zombies | 2 Comments »
Tags: Geeky Tattoo, Tattoos, Zombies
2 Responses to "Precious Little Brain-Eater: Zombie My Little Pony Tattoo [Geeky Tattoo]"
harold kinsella. Says:
January 15th, 2010 at 2:11 pm

i like it. not on me, but…

Casey Says:
April 20th, 2010 at 2:23 pm

Cute take on my tattoo. I'm actually not a dude, and don't have too much of a problem with ponies Or my arm, haha it was more of an ode to the f***ed up foster care system.
Comments