I have seen some poor excuses for Transformers toys before, but the digital Transformers Bumblebee Watch and Optimus Watch take the three-layer cake of shiftless design.
You know the one: it's frosted with laziness and tastes of powedered silicon from a factory floor in Shenzhen, China.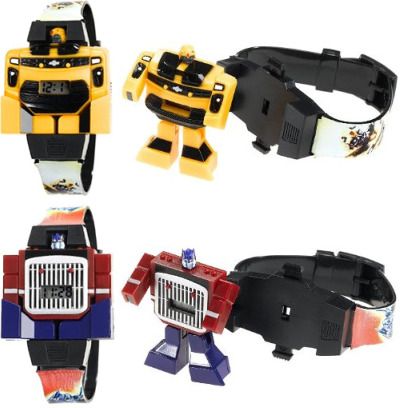 For $9.99, I guess you get what you pay for: a $7.99 digital timepiece plus a two-dollar plastic robot that transforms into a folded-up two-dollar plastic robot. I mean, isn't there some sort of nerd law in some nerd tome somewhere that says if the robot's head is still showing, it's not really a transformation? Somebody should write a Wikipedia page.
Via Oh Gizmo!, who wants a watch that can transform into a clock.
Enjoy this post? Subscribe to Great White Snark by email or by RSS.