There's something really lovely, artistic, and sexy about this "Peace, Love, and Batman" tattoo photo piece from photographer Liz C.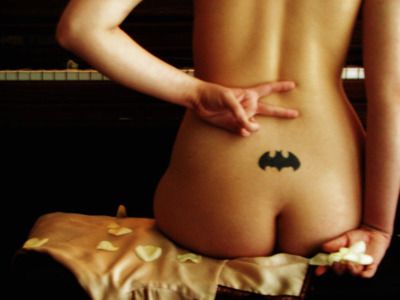 Photo Source: liz373 on deviantART
But something about the buttocks symbolizing "love" makes me think of prison movies.
By the way, is there a… classier term for "tramp stamp"? I couldn't think of another way to describe that Batman tattoo without dragging this entire post into the gutter.
And there's no room left in the gutter since my mind took the place over.
Find Batman temporary tattoos on Ebay
Enjoy this post? Subscribe to Great White Snark by email or by RSS.