Someone either ran out of colored frosting or went a bit overboard on the whole "battle-damaged" thing on this Star Wars Boba Fett cake.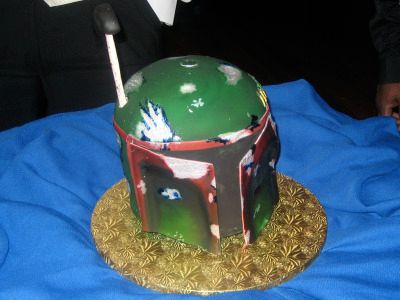 Photo Credit:  Danielle317 on Flickr
Let's ask Danielle. She says:
It was my brother-in-law's cake, and I know it was a dulce de leche cake inside (which was AWESOME) with fondant and modeling chocolate outside, but I don't know who made it.
Right. We don't know who made it. Do we know who threw rocks at it before the delivery?
Find custom Boba Fett figures on Ebay
Enjoy this post? Subscribe to Great White Snark by email or by RSS.