« Cute-splosion: Zelda Link Costume [Cosplay] | Main | Temple of Luuurve: Star Trek Klingon Great Hall Wedding Cake [Geeky Cake] »
By Great White Snark | January 26, 2010
Alyssa is absolutely rife with geeky tattoos–including Zelda characters all over her thighs and a Triforce on her neck–but I think we can all agree that her most curious work includes the pair of pinball paddle tattoos on her lower back and pinball buttons above her hips.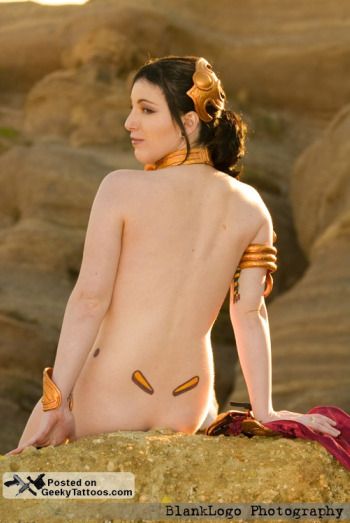 And I bet you're saying to yourself, "I'd sure like to play her like a pinball machine! Bump that machine! Bump it!"
Because you're an awful, awful person.
Via Geeky Tattoos, who can make a "tramp stamp" sound classy.
Find collectible pinball machines on Ebay
Enjoy this post? Subscribe to Great White Snark by email or by RSS.
You may also like these stories:
Topics: Games, Tattoos | 2 Comments »
Tags: Games, Geeky Tattoo, Tattoos
2 Responses to "Ding, Ding!: Pinball Paddles Lower Back Tattoo [Geeky Tattoo]"
Tracy J Says:
January 27th, 2010 at 1:25 pm

Um, is it just my imagination, or is she partially wearing a Slave Leia outfit?

Nathan D Says:
January 28th, 2010 at 7:26 am

Tilt.
Comments