Sure, I mean, who wouldn't want to show up to Dragon*Con wearing nothing but a body paint Witchblade costume?
Well, me, for one, but that's mostly because my figure* is better-suited to a body paint Wolverine costume. (Yeah. That's right, ladies.)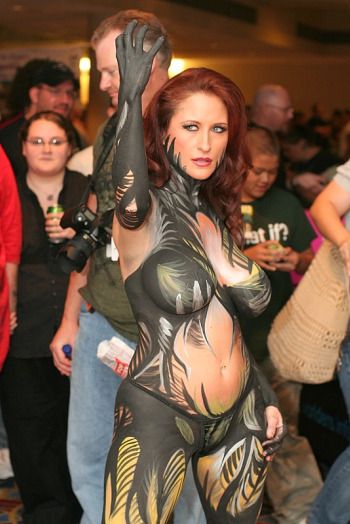 Photo Credit: FotoToad on Flickr
For those of you interested in the, you know… artistry of this process, there's a video, below, documenting this very-healthy woman having the Witchblade costume painted onto her, uh… canvases.
And for you unabashed horndogs, here's a gratuitous photo of her rear end.
See? Something for everyone. Artistic horndogs and regular horndogs, alike.
* Of course, by "figure," I mean, "messily-hairy chest."
Find Witchblade action figures on Ebay
Enjoy this post? Subscribe to Great White Snark by email or by RSS.