This Yoda Transformers "Attack Ship"–unveiled at Toy Fair 2010 and scheduled for release in August–makes me so profoundly unhappy.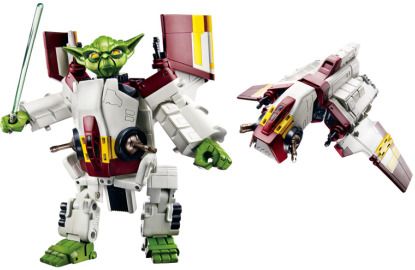 If your eyes have done something to really piss you off lately*, you can make them pay the price with more images of ridiculous forthcoming Star Wars Transformers over at Transformer World 2005.
* No, seriously, though. If you and your eyes are currently on good terms, I do not recommend following that link.
Find Star Wars Transformers on Amazon
Enjoy this post? Subscribe to Great White Snark by email or by RSS.