« Dance, Wolverine, Dance!: Hugh Jackman in a Commercial for Lipton Iced Tea | Main | FINALLY: The Difference between Nerd, Dork, and Geek Explained by a Venn Diagram »
By Great White Snark | March 25, 2010
I don't want to celebrate America's obesity problem or anything, but this lady at Dragon*Con very cleverly used her heft to create a darn good likeness of Yarna d'al' Gargan, the "longtime Askajian dancer from Askaj at Jabba's Palace."*
A.k.a., "the lady with the six boobs from Return of the Jedi."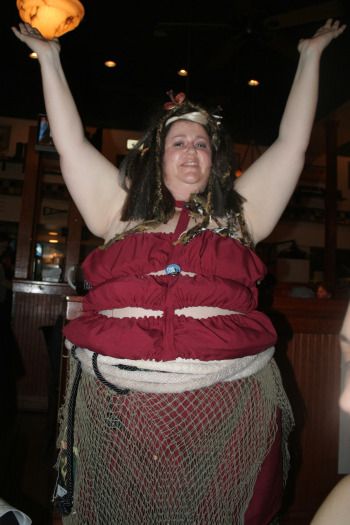 Photo Credit: russ257 on Flickr
* Thanks, Wookieepedia.
Find sexy Star Wars costumes on Ebay
Enjoy this post? Subscribe to Great White Snark by email or by RSS.
You may also like these stories:
Topics: Costumes, Star Wars | 2 Comments »
Tags: cosplay, Costumes, Star Wars
2 Responses to "Hey, It's That Lady! From Star Wars!: Yarna d'al' Gargan Costume [Cosplay]"
Mary Says:
March 26th, 2010 at 4:26 am

Thank you, Big Mama, for working with what you've got and not going the Slave Leia. Me, I'm still looking for a short, curvy, bespectacled character to cosplay as.

Love the site, keep up the good work.

Bearfoot Says:
March 30th, 2010 at 6:29 pm

The first rule of cosplay is "find something that you're right for."

For following that rule ma'am. WE are all better for it.

To paraphrase what Mary said.
Comments