The WonderCon 2010 costumes featured a lot of mother/daughter action. Which is probably a phrase I will regret using later when I start to get an all-new type of traffic from Google.
Please continue to help me out in the comments with any mis- or un-labeled costumes. And by all means, allow my ignorance to stoke your nerd-rage. It amuses me.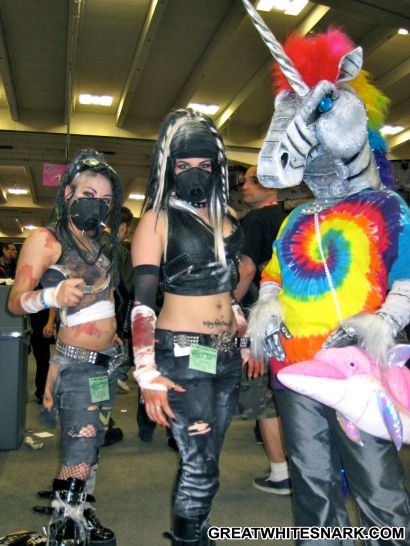 Robot Unicorn Attack costume. (Bet you didn't think I could pull that one out of my infrequently-exposed-to-sunlight orifice, did you?) Can't help you out with these other broads, though.

Sailor Moon costumes. Happy that mom and daughter are bonding. Sad that I know this is Sailor Moon.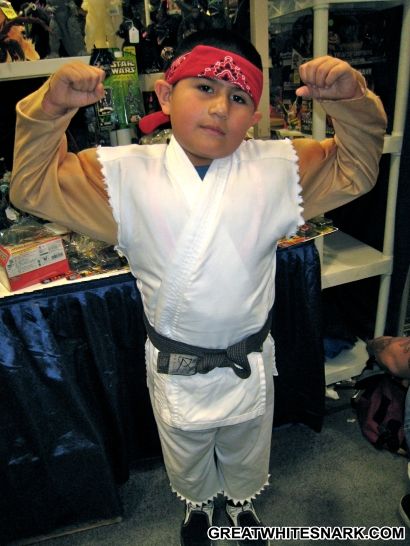 Ryu costume from Street Fighter. He's looking pissed because he didn't like my idea that he should "flex." Don't argue with the artist, kid.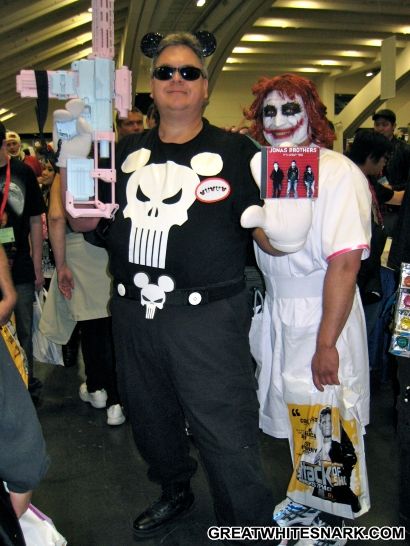 Punisher Mickey Mouse costume. Winner. Finally discovered the one awful toy crossover Disney won't touch.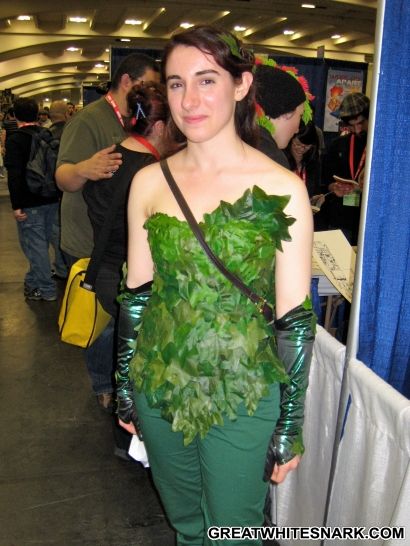 Poison Ivy costume. Obviously not in character. I'm getting too much of a "pleasant" vibe.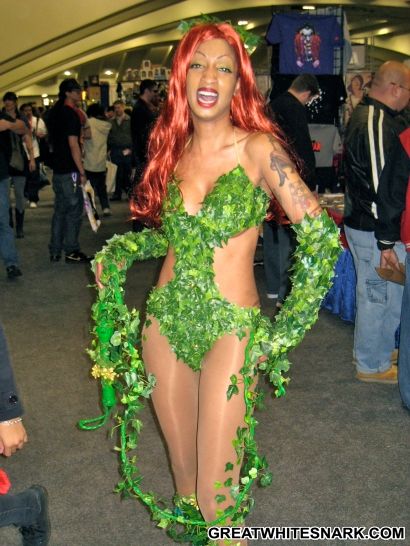 Sexy Poison Ivy costume. Yeah, sorry Other Poison Ivy Costume Gal, this one gets the "sexy" tag.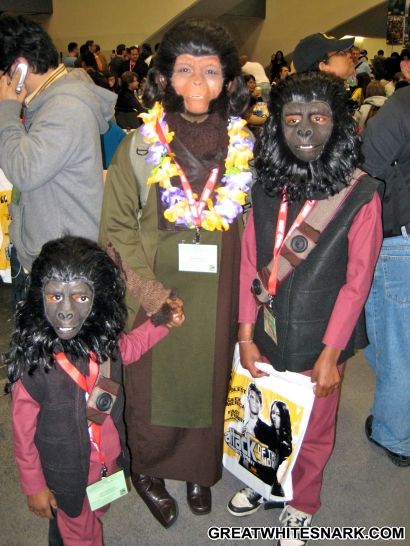 Planet of the Apes costumes. Not how I would personally dress up my kids, but to each their own. I'm not judging. Much.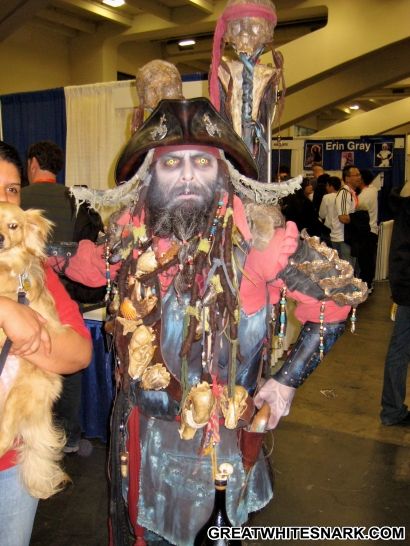 Pirate costume. I've been seeing this guy at conventions for the past year or so. Of course, if I made a costume that elaborate, I'd wear the hell out of it, too.

Storm Shadow Snake Eyes ninja costume. I'd like to introduce you to the Coolest Mom, Ever. (My own mother will not be pleased to know that she's been demoted. Again.)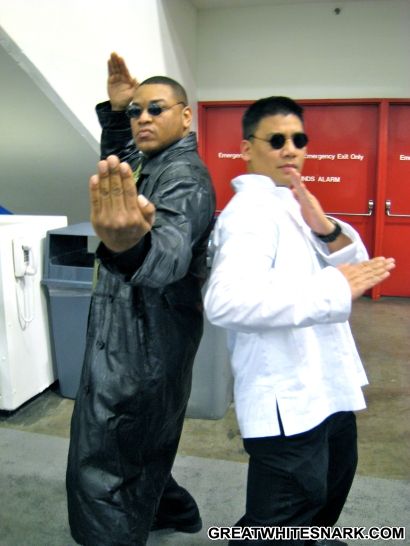 Matrix costumes. Wowza. Check out the likenesses.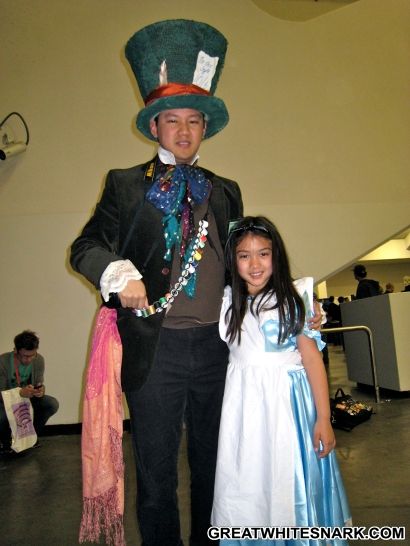 Mad Hatter costumes. There were a hell of a lot of Alice in Wonderland costumes, but I'm just posting one. 'Cause, really? More boring than Clone Trooper costumes.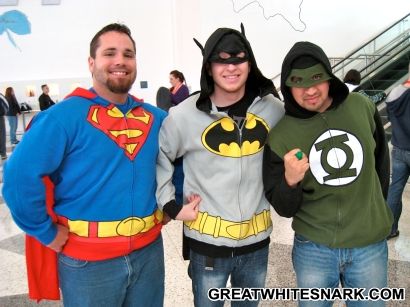 Justice League costumes. Lazy. So lazy.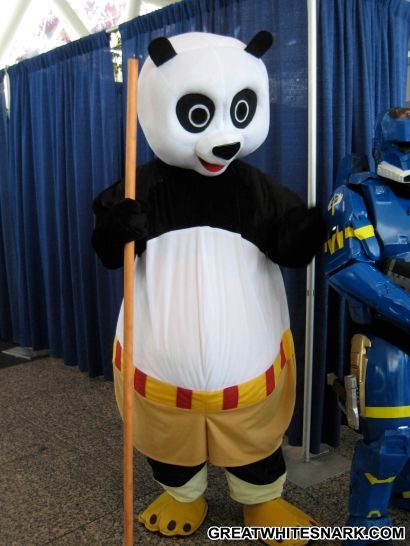 Kung Fu Panda costume. I respect this costume for being so outlandishly un-timely and un-hip. Own it, fella.

Klingon costume. A girl who took a picture with him walked away and said, "Man, he stinks." He's just shooting for authenticity, hon.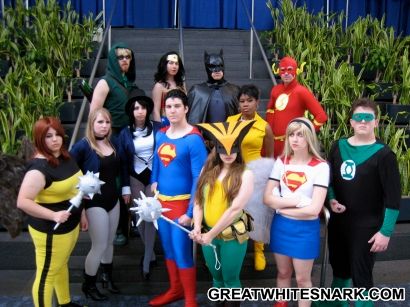 Justice League costumes. No joke, these surly bastards could not have been any more difficult to wrangle. Clearly they didn't know that only attractive or rich people get to be prima donnas in today's society.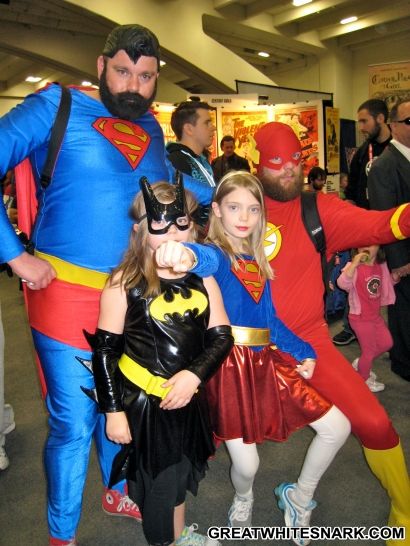 Justice League costumes. Man, the beards really kick it up a notch, eh?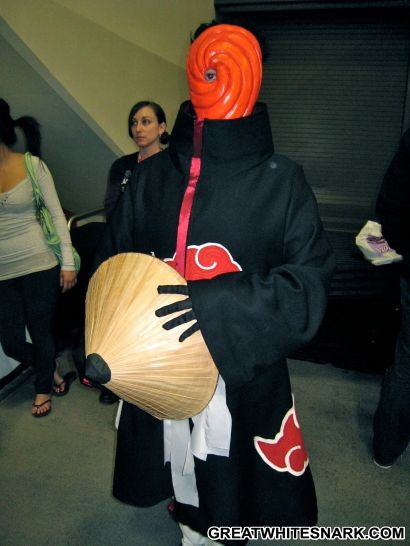 And there's that guy. Help me out here. Update: Via Izandra in the comments: Tobi from Naruto Shippuuden.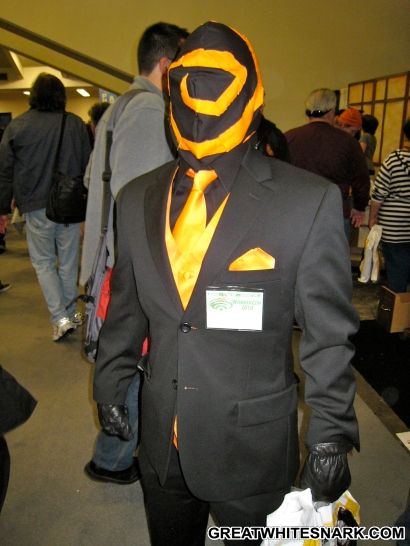 Yep, still lost. Anyone? Update: Via Izandra in the comments: Spellbinder from Batman Beyond.
Find Poison Ivy costumes on Ebay
Enjoy this post? Subscribe to Great White Snark by email or by RSS.