The costumes at WonderCon 2010 featured a lot of crossplay. But not so much with the guys dressed up as lady-characters. Which seems kind of one-sided.
I'm a big fan of one-sidedness at the moment.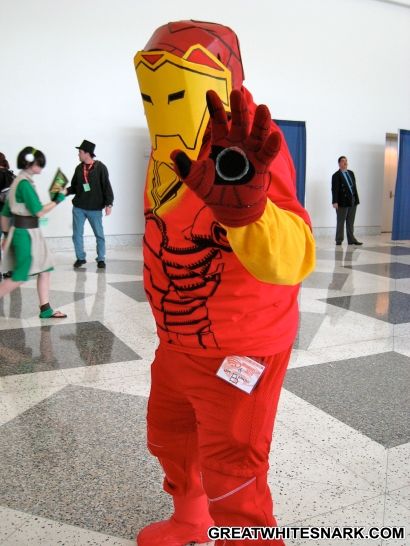 Papercraft Iron Man costume. Him: "Do you want the mask up or down?" [Starts playing with velcro attachments.]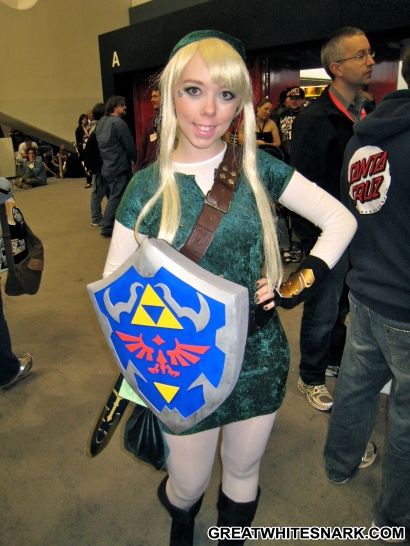 Crossplay Link costume. You've noticed how I open all these posts with some somewhat-sexy chick to lure you in, right? Yeah, I figured you had. You're pretty sharp. On occasion.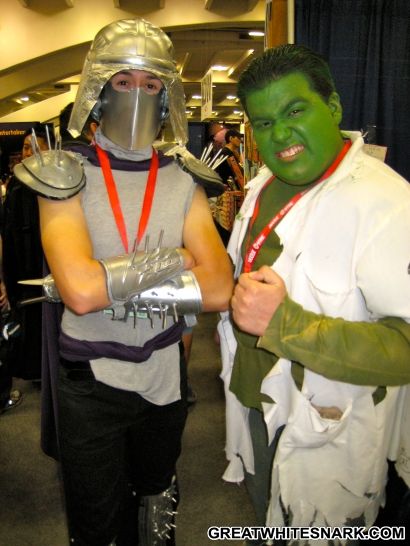 Shredder costume and Hulk costume. Apparently the Shredder costume took a month to make. Those are golf tees sticking out of the gauntlets. (Trivia!)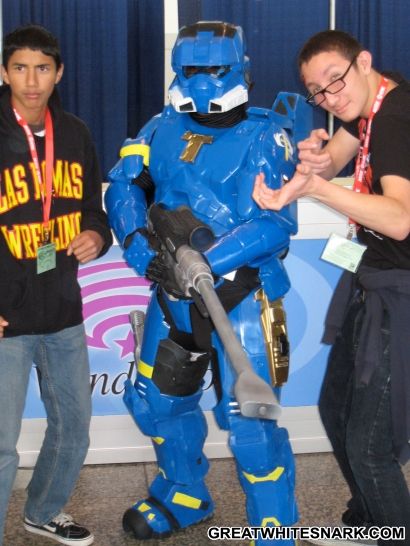 Halo costume. Not so funny.

Greatest American Hero costume. (Greatest-ish. Nice roots.)

I'm sure someone would be glad to tell me what the hell this is. Update: From Steph, Becca, The Broox, and greedyskunk in the comments: Toki Wartooth and Nathan Explosion from Metalocalypse. Toki looks to be holding a paper puppet of Pickles.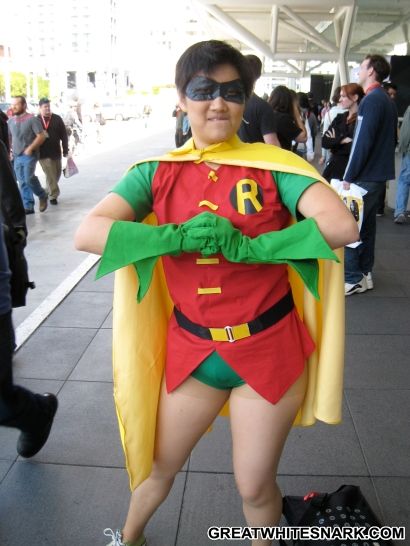 Crossplay Robin costume. There's something funny going on here, and I just haven't figured out what it is. Hint: it's not the Asian-ness or lack of man-junk.

Crossplay Ghostbusters costume. This is the woman who said that the Klingon (in the background) "stinks". Busted. To be fair, he really did.

Crossplay Flash costume.

Fairy costumes. Me: "Yeah, but fairies from what?" Them: "We're just fairies." Me: "Ok."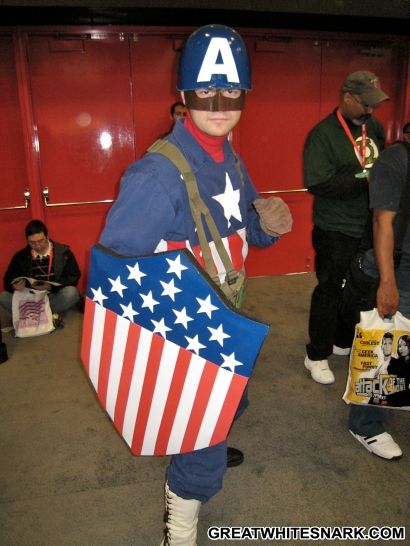 Captain America costume. Not so funny.

Big Daddy costume from Bioshock. Right? Maybe? I don't know. I don't know anyone else with a giant drill on their arm.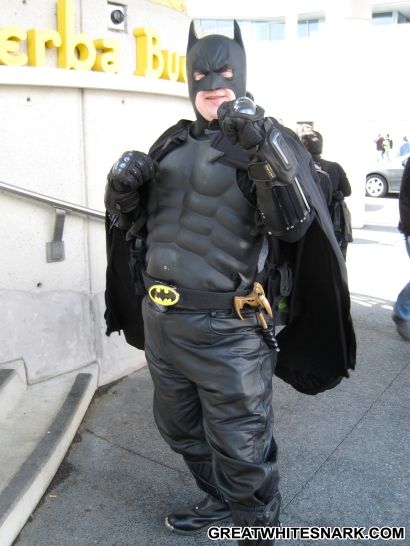 Batman costume. Yadda yadda fat joke yadda yadda.

Harley Quinn costume, Baroness costume, and some excuse to wear a wacky red wig.

Crossplay Asterix costume. Of Asterix and Obelix fame. What? You've never heard of him? Gawd, you're such an ignorant American.

Arkham Asylum costumes. Dr. Quinzel and Poison Ivy. Awesome.

Ares costume. Me: "Are you like Punisher gladiator or something?" Him: "I'm Ares." Me: "Ah. Right."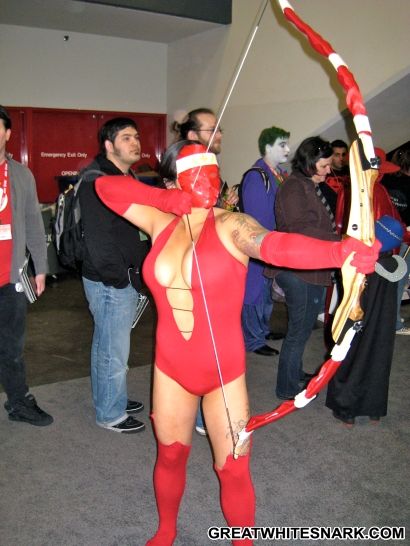 Not sure what this is supposed to be, but it certainly appears to be an excuse to accessorize some astounding cleavage with random accoutrement. Update: From Izandra in the comments: I think the red archer girl might be Danielle Moonstar when she was with the Mutant Liberation Front.

And that, my friends, is a straight-up crazy lady. You can tell from the cart full of balloons.
Find Iron Man costumes on Ebay
Enjoy this post? Subscribe to Great White Snark by email or by RSS.