« Twitter Link Sampler – Week Ending May 1, 2010 | Main | One of a Kind: X-Men Mojo Costume [Cosplay] »
By Great White Snark | May 3, 2010
Good news: for anyone who couldn't quite grasp the scientific simplicity of the Geek/Nerd/Dork Venn diagram, here's the difference between nerds, geeks, and dorks explained by comic characters.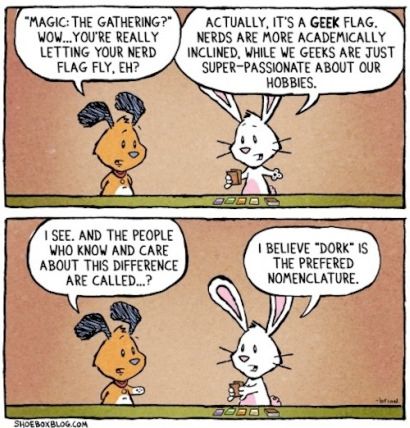 This Chuck & Beans comic from Shoebox Blog comes via Gizmodo, whose inner nerd has outwardly dorky tendencies.
Find Magic the Gathering cards on Ebay
You may also like these stories:
Topics: Comics, Geeks | 1 Comment »
One Response to "That's Right: Comic Explains Difference Between Nerd, Geek, and Dork"
LB Moose Says:
September 8th, 2010 at 3:34 pm

FINALLY! An explanation I can understand!! Yay… I'm a Geek works for me.
Comments